The used car market can be a fickle and intimidating place to find your dream performance motor, but dig deep enough and there's plenty to take even the most picky buyer's fancy. Britain's second-hand market is full of fascinating used buys that are often available for a fraction of their as-new price. 
There's also the added fun and excitement of finding something just that little bit special, in both rarity and the capability they can provide for the money. As such we feel it is our duty to do some of the hard work for you, digging out our favourite second-hand buys every week.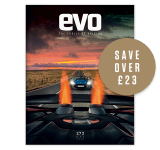 Subscribe to evo magazine
Subscribe today to have every issue of evo delivered straight to you. You'll SAVE 39% on the shop price, and get evo for its original cover price for a whole year!
> Browse our used buying guides here
Best used car deals of the week
Below are our best used car spots of the week...
Hyundai i30 N Performance (2018)
£21,098
The Hyundai i30 N is one of our favourite hot hatches on sale right now, but is set to receive its first major update with the introduction of a dual-clutch automatic gearbox and refreshed styling. If you want to skip the wait and save some cash, however, this 2018 car won't disappoint.
> 2020 Hyundai i30 N facelift teased ahead of reveal
Finished in the brand's trademark Performance blue, it has covered a respectable 15,530 miles in its lifetime and boasts enough performance to satisfy any driver. 275bhp and 260lb ft of torque are sent to the front wheels for a 6.1sec 0-62mph time and 155mph top speed.
McLaren 540C (2017)
£79,995
McLaren's Sports Series lineup has provided us with some of the best supercars of recent years, with the 600LT and, more recently, 620R proving to be more accomplished than more pricey rivals. Though it sits at the bottom of the range, the 540C still sends 533bhp and 398lb ft of torque to the ground from its 3.8-litre twin-turbocharged V8, enough for a 3.5sec 0-62mph time and 199mph top speed. 
> Next McLaren Sport Series comes into focus
It may be the cheapest model new McLaren currently offers, but a starting price of around £130,000 pushes it well out of reach for most. 12,569 miles after it left the forecourt, however, this Blade Silver 2017 example could be yours for just under £80,000 - that's a discount of almost £50,000…
Jaguar F-Pace SVR (2018)
£58,450
Jaguar's largest SUV has received its first major update since its 2015 reveal, with minor exterior design changes and a brand new interior for 2020. Topping the new model's range for now is the plug-in hybrid P400e, with the V8-powered SVR still to come, but to save you the wait and a hefty chunk of cash, we've found this low-mileage 2018 car for over £15,000 under its list price.
> 2020 Jaguar F-Pace revealed – new engines, interior and tech
Despite its price, just 5834 miles have been covered since it rolled out of the factory two years ago, and although its successor is likely to feature a mild bump in performance, a 550bhp output is unlikely to leave you wanting more...
Nissan 370Z Nismo (2018)
£24,995
The successor to the decade-old Nissan 370Z has all but arrived, but in an unexpected twist it won't be coming to UK shores… If you'd like to get your hands on what could be the UK's final and most potent Nissan Z car, this 2018 370Z Nismo is the car for you. 
> Nissan Z Proto revealed – V6 twin-turbo, six-speed manual, and a catch
Despite a near-£40,000 price tag when new, after 13,646 miles this black example is on the market for just £24,995. Being a Nismo, it features plenty of performance-oriented additions absent from the standard car, alongside a 344bhp, 274lb ft 3.7-litre V6 - 0-62mph happens in a quoted 5.2sec with top speed coming at 155mph. 
BMW i8 (2020)
£79,980
Production of the eccentric BMW i8 came to a close earlier this year, and although its rivals offered more performance for the money, it was an undoubtedly charming machine nonetheless. Power comes from the combination of a front-mounted electric motor and a 1.5-litre turbocharged three-cylinder, enough for a combined 369bhp and 420lb ft of torque; 0-62mph sits at 4.6sec for the Roadster, with top speed at 155mph.
> BMW i8 Roadster review – new open top hybrid sports car
Price was a sticking point for the i8, with the topless variant starting from just shy of £124,000. After just 151 miles on the road, however, this near-new white car could be yours for under £80,000, a staggering saving of around £50,000.
Ferrari 458 Speciale (2014)
£219,590
The 458 Speciale was the last naturally aspirated V8 model that Ferrari ever made, making it one of the brand's most collectable models of recent times. Thanks to the wonders of the used car market, however, prices are currently relatively low, meaning you can have this Nero Daytona example for the same price as an F8 Tributo with some options. 
At its heart is a 4.5-litre engine producing 596bhp at 9000rpm, plus 398lb ft of torque, for a 3.0sec 0-62mph time and 203mph top speed. Though it's the cheapest currently on the market, this particular car still features a sports exhaust system, front suspension lift and more interior carbonfibre than one could ever need. 
Renaultsport Twingo 133 Gordini (2011)
£4,950
The Renaultsport Twingo wasn't quite the revelation we all quietly hoped it would be when it launched in 2008, but isn't it interesting how time can be such a differentiating factor. Without the superb Phase 2 Renaultsport Clio to live up to, nor the wickedly talented Clio 197 it was sold alongside, the Twingo's back-to-basics approach has never been more desirable.
This specific model is extra special in that it's the Gordini edition, and in the less common black paintwork, making for quite a rare little hatchback. While the Twingo will never be a traffic light champion, its compact dimensions, charismatic 1.6-litre four-cylinder engine and featherweight build make it a brilliant entry point into hot hatchback motoring. 
Honda NSX (2017)
£106,289
The Honda NSX we were going to put in this list was a delicate, all-aluminium, Senna-fettled original, but when we saw an original, late-model example kicking on for close to £150,000, while its hybridised successor in near-new condition could be found for nearly 50 percent less, the discrepancy seemed worth exploring. 
The current Honda NSX was a pioneer of hybrid supercar design and development, arriving after the initial McLaren, Ferrari and Porsche 'holy trinity', and without a seven-figure price tag. In fact this NSX barely goes into six figures, and with its combination of huge pace and surprising playfulness, feels like remarkable value. It has just 3000 miles on the clock, and is one of the more sophisticated colour combinations we've seen, polished Vegas-spec wheels and all. 
Lotus Elise S (2015, S3)
£29,990
Sports cars such as the Lotus Elise are a welcome break from the constantly growing weight, power and complexity. This Elise S model features the later Toyota-sourced 1.8-litre  four-cylinder engine, producing 217bhp and 184lb ft of torque to the rear wheels. Thanks to a kerb weight on the right side of 900kg, it'll reach 62mph in just 4.2sec, with top speed at 145mph.
> Lotus Elise review – is the featherweight sports car as good as ever?
Should you order a similar Elise from new, it would set you back in excess of £40,000 before options. After this car's 8000 miles however, this 2015 Elise S could be in your hands for under £30,000, making for a brilliant, albeit less practical proposition to today's similarly-priced hot hatch offerings.
McLaren 720S (2017)
£138,995
The McLaren 720S was a yardstick moment when it was released in 2017 packing performance, precision and usability none of its rivals couldn match. Its 4.0-litre twin-turbocharged V8 is said to send 710bhp and 568lb ft of torque to the ground for a 2.9sec 0-62mph and 212mph top speed, but we'd say it feels a whole lot faster… 
> Lanzante LM 25 Editions pay homage to McLaren F1 GTR-1R
Should you leave all boxes unticked, a new example will cost you around £210,000, but as with many McLarens, dramatic depreciation has brought this 720S down to comparatively-affordable sums. After 7571 miles this Azores orange car can be had for less than the marque's entry-level 570S. A carbon fibre exterior package, full McLaren service history, sports exhaust system and performance package all come equipped too, meaning it would have left the factory at a whole lot more than the basic price.
BMW M4 Competition (2020)
£60,000
The BMW M4 Competition is only weeks away from being replaced by a controversial-looking successor, but the current F91 is hardly dated in terms of performance and usability. It's powered by a 3-litre turbocharged straight-six that sends 444bhp and 406lb ft of torque to the rear in Competition trim, good a 4sec 0-62mph sprint and 155mph top speed.
> BMW M4 review – has BMW honed the M4 into a class leader?
Granted there are cheaper examples on the market, but if you're after something factory-fresh it's still at a discount compared to a new example. Though it was optioned to just shy of £80,000, an incredible £19,915 has been sliced off its retail price, reducing it to £60,000. Fitted with a handful of optional extras, it's even finished in BMW Individual's 'Fire Orange' shade.
Maserati GranTurismo (2009)
£30,900
Maserati has finally equipped its Ghibli saloon with a V8 power plant seven years after its launch, but there is a considerably cheaper way to get your V8 Maserati fix. Unlike the marque's latest V8 machines you won't find any turbochargers under this long bonnet, instead power comes from Maserati's atmospheric 4.7-litre V8 sending 434bhp and 361lb ft of torque to the rear wheels for a 4.7sec 0-62mph time and 183mph top speed. 
> Maserati Ghibli Trofeo revealed – sober-dressed BMW M5 rival finally arrives
This 2009 Nero Carbonio model is available for £30,900 with 26k on the clock, and includes a desirable combination of 20" 'Birdcage' wheels, sports seats and Nero leather.
BMW M3 CSL (2003)
£49,995
The E46 M3 CSL needs no introduction, being widely regarded as one of the best M cars ever to grace our tarmac. One of the greatest induction sounds you'll find in a road car comes courtesy of its 3.2-litre naturally-aspirated S54 straight-six, sending 356bhp and 269lb ft to the rear wheels for a 5.2sec 0-62mph sprint and 155mph top speed.
> E46 BMW M3 CSL manual conversion package revealed by Everything M3s
The CSL is fast becoming a modern classic, and used prices are reflecting this - the very finest examples will set you back close to £100,000. If you'd like to get your hands on one before prices climb too high, however, this 72,000-mile car might be for you. Finished in Black Sapphire with a grey Alcantara interior, it comes with a full service history as one would hope for something so dynamically focused. For an additional £3500, you could even have it converted to a manual by Everything M3s...
Lamborghini Aventador (2012)
£168,975
A welcome break from today's onslaught of SUVs and electrified machines, the Lamborghini Aventador takes an entirely different approach to the performance car brief. Powered by a naturally-aspirated, 6.5-litre V12, it sends 700bhp and 507lb ft of torque to all four wheels for a 2.9sec 0-62mph sprint and an impressive 217mph top speed. 
It's clear that useability and comfort weren't high on the agenda during its development, but the resulting driving experience is one we're yet to find anywhere else.
> New Lamborghini Sian – most powerful Lambo yet makes Frankfurt debut
Despite our appreciation for its downfalls, the used market doesn't appear to have taken kindly to them, and that's great news for the discerning buyer. The Aventador might still hold flagship status, even almost a decade on, but this launch spec, 7,900-mile Arancio Argos example can be yours for less than the price of a new Huracan.