'Toyota can make white goods models and still be the world's most exciting car brand'
Calling Toyota 'the most exciting car brand' might sound dubious, but Meaden might be on to something...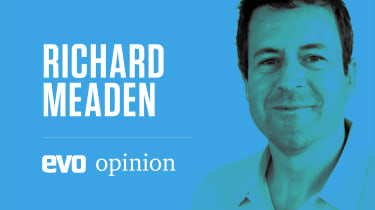 ith the internal combustion engine enduring a slow death by a thousand downsizes, and the art of driving under threat thanks to the wider world's obsession with autonomous cars, you could be forgiven for thinking it's all doom and gloom in our corner of the automotive world.
You'll know I rarely pass up the opportunity for a moan, but despite there being plenty of scope to launch into another of my four-weekly whinges, I'm in uncharacteristically high spirits. In this rare moment of optimism I wanted to explore a concept I've been pondering for a while: which is the most exciting car brand?
My nomination is not one born from great industry wisdom – I'm a huge fan of the products, not a student of the business. Rather, I prefer to look at what a company is doing across the whole spectrum of what's relevant and exciting to me. That means cars I can afford and cars of which I can only dream. It means a commitment to motorsport. It means heart, authenticity and the ability to surprise.
> Click here for our review of the Toyota Yaris GRMN
Conveniently ignoring my first tenet of affordability, I initially thought of Aston Martin. Partly because it's a marque I've been a fan of since seeing (and hearing!) an X-Pack Vantage as a kid, but mostly because it hasn't so much weathered the stormy post-recession years of declining sales and an ageing model range as emerged phoenix-like with afterburners lit.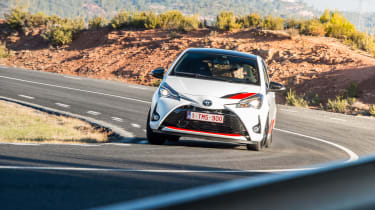 With its range revitalised thanks to the new Vantage and V12, V8 and Volante DB11s, plus an all-new DBS Superleggera poised for launch and the Adrian Newey-designed Valkyrie set to blow every other hypercar out of the water, Aston is nailing it. Factor in a mid-to-long-term strategy that includes an SUV, mid-engined sports cars, hybridisation, electrification and the rebirth of Lagonda, and CEO Andy Palmer's visionary 'Second Century' plan puts Aston Martin on a stratospheric trajectory.
Yet there's another company I believe is more deserving: Toyota. What?! I know. It surprised me, too. Largely because there's a contradiction that leaves me feeling conflicted. After all, how can the maker of countless millions of white goods models qualify to be the most exciting car company in the world? Well, that same company gave us the LFA – arguably the greatest money-no-object expression of pride and passion in modern automotive history. At the other end of the scale it signed-off the Mk3 MR2 – a brilliantly wrought little sports car and now an everyman Elise on the used market. It also thought deeply enough about driving to step off the 'more is better' merry-go-round and build the refreshing (if not entirely satisfactory) GT86.
And today? Now we have the gloriously named Yaris Gazoo Racing tuned by Meister of the Nürburgring (GRMN to its friends) – a millennial Clio Williams if ever there was one, and the first of a promised family of Gazoo-tuned high-performance models. There's the upcoming Supra – built on a platform shared with BMW's Z4, but delayed because reportedly Toyota boss Akio Toyoda (a 105 RON petrolhead) said it fell short of delivering the driving experience he wanted for Toyota's sporting flagship. And then there's Lexus, which has become a genuine challenger to the established German marques.
When I mentioned all this to evo's editor he was unusually effusive. This is highly irregular, for ordinarily Mr Gallagher is a true colossus of contempt, yet he immediately got where I was coming from. Indeed he took the idea and ran with it, suggesting Toyota is one of the few car makers from which you could populate a genuinely appealing and utterly diverse three-car garage. And do you know what, I think he's right. I'd be pretty chuffed to have a Yaris GRMN for bombing around in, Lexus LC500 for making a statement and a Toyota Hilux for when The Donald or Little Rocket Man leave us with a smouldering post-apocalyptic wasteland to roam.
Fancy something less utilitarian? Swap Hilux for Land Cruiser. Want something small, affordable (at least as new cars go) and rear-wheel drive? Switch Yaris for GT86. Think picking a Lexus is cheating? Wait for the Supra. Feel the LC is a bit softcore? Get yourself an RC F. Or blow the lottery win and buy an LFA and a 2000GT. And then there's Toyota's commitment to motorsport. Whether it's chasing that cruelly elusive Le Mans victory, the factory return to the WRC, Akio Toyoda's fanatical obsession with the Nürburgring N24, or the wider global activity in NASCAR, the Dakar and Japanese GTs, you clearly have a company with heart, passion and an admirable preparedness to chase a dream.
These days it can feel like the car industry is deserting the enthusiast, but when it gets things right it remains a rich source of pleasure. That the world's largest car company can also be the most exciting is inspiring evidence of just that.