New Aston Martin Vanquish to be called DBS Superleggera
Teaser image confirms new DBS Superleggera name for twin-turbo V12 Aston Martin Vanquish replacement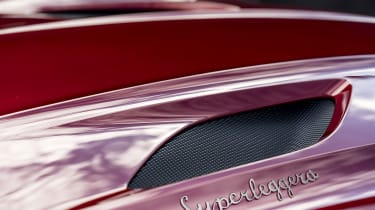 Aston Martin has confirmed the replacement for its Vanquish supercar will be known as the DBS Superleggera, with the new car two-seater due during the second quarter of 2018. While Aston Martin's range-topping supercar has worn the Vanquish and DBS model designations alternately since the original Vanquish's launch in 2001.  
Already seen testing at the Nürburgring and in colder climes, Aston Martin's new supercar won't be a complete surprise when it's revealed in full. Design cues drawn from the DB11 will feature, however, a much more aggressive aesthetic — befitting of a supercar — will be adopted. Aero elements, such as the front splitter, rear diffuser, active rear wing and the pair of bonnet vents will all feature on the new 700bhp supercar. Power for the new DBS Superleggera will be a more advanced and higher state of tune version of the DB11's twin-turbo 5.2-litre V12.
> Aston Martin DBS Superleggera spied
Aston Martin is yet to divulge any performance stats for the DBS Superleggera, however expect a substantial power hike over the DB11 V12's 600bhp, with changes to the induction, exhaust, injection system and turbocharging and intercooling resulting in a near 700bhp peak power output. Such a power increase will place the DBS Superleggera head-on with rivals such as Ferrari's 488 GTB and McLaren's 720S.
As per previous DBS and Vanquish models, a Volante variant is expected to follow the two-seater coupe to broaden the DBS Superleggera's appeal.
The new DBS won't be the first Aston to bear the Superleggera name. Previous classics including the DB4, 5 and 6 models benefited from the lightweight 'Superleggera' construction technique employed by Touring, the Italian coachbuilder, which has a long been associated with Aston Martin. The DBS will be built at Aston Martin's Gaydon factory. 
Aston Martin hinted the return of the Superleggera moniker is in more than just name, implying extensive efforts have been made to keep the weight of the new car down. As such, expect carbonfibre to be used to form body parts such as the bonnet, roof and boot, just as on the outgoing Vanquish S models.
Talking on the announcement, Chief Creative Officer Marek Reichman, said, "When you hear the name DBS Superleggera, you know what it is. It's the definitive Aston Martin Super GT. It's an icon, a statement and this one will be no different. We've pushed the boundaries of performance and design to give this car a distinct character and ensure it's worthy of the heritage and weight that this name carries".