Peugeot 208 GTi by Peugeot Sport tops renewed 208 range
30th anniversary car's tweaks now permanently available in flagship model. Updated with pricing info
There was little doubt that the Peugeot 208 GTi 30th Anniversary's changes would eventually spawn a permanent model in the range. The Peugeot 208 GTi by Peugeot Sport features all the changes you'll find in the sold-out 30th Anniversary cars, now sitting as a range-topper above the regular GTi and new GTi Prestige models.
Peugeot Sport alterations include a lowered ride height, wider track, 18-inch alloy wheels, and matt black exterior detailing on the two-tone paintwork, adding a welcome dose of aggression to the standard 208 shape.
Other 30th Anniversary touches included to enhance the GTi's driving characteristics include Brembo brakes, a Torsen differential, tuned suspension and steering, and a set of Michelin Pilot Super Sport tyres.
Inside, the GTi by Peugeot Sport also gets a set of wildly-bolstered bucket seats and some red floor mats. The rest of the interior – including Peugeot's unusual 'i-Cockpit' with its raised dials and tiny steering wheel – is as you'll find on the regular GTi.
The 208 GTi 30th Anniversary featured a host of small engine tweaks over the regular GTi. While some of these allow the upgraded 1.6 THP engine to slip into the Euro 6 emissions band, they also liberated a little more power – 205bhp at 5800rpm and 221lb ft at 1750rpm, up from 197bhp and 201lb ft. Naturally, these changes will carry over to the new car.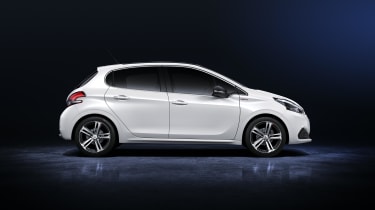 For those seeking a little pizzazz in their Pug without committing to the new range-topper, Peugeot has also introduced GT Line trim to the 208 range.
Engine choice consists of a 108bhp, 1.2-litre PureTec petrol, and 97bhp or 118bhp 1.6-litre diesels. You can opt for a three- or five-door shell, while specification builds upon existing Allure trim.
There's a new grille and front fog light finishers, 17-inch alloy wheels, black door mirror caps, chrome window surrounds and a chrome exhaust finisher. GT Line badging completes the exterior alterations, while black and red sports seats and similarly-coloured interior trimmings define the GT Line's cabin.
All new 208s receive small exterior alterations, new LED signatures in the front and rear lights and a host of new alloy wheel and exterior finish options. One of those is textured paint, as found on the 30th Anniversary GTis. It costs the same £645 as you'll pay for pearlescent finishes.
The refreshed 208 range starts from £11,695 for a 1-litre Access-badged model, while the GTi range now begins at £19,145. You'll pay £19,995 for a GTi Prestige, while the Peugeot Sport-fettled GTi sits at £21,995. All are available to order now.