Peugeot announces 208 GTI prices
Peugeot has set prices for its latest hot hatch at £18,895 - on sale later this year.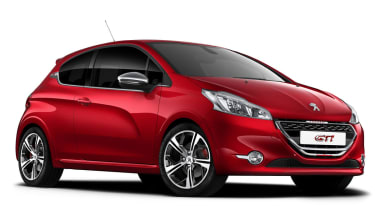 Peugeot has set UK prices of its 197bhp 208 GTI at £18,895, with order books opening in March. Production will begin in April, with the official launch taking place in May.
Powered by the same 1.6-litre turbocharged engine as the Peugeot RCZ, Mini Cooper S and Citroen DS3 Racing, it's tuned to the same 197bhp as the top RCZ model. Mated to a close-ratio six-speed manual gearbox, Peugeot's small hot hatch is capable of a claimed 0-62mph time of 6.8secs.
The firm pricing places the 208 GTI at the top end of its sector, costing almost £2000 more than the recently launched Fiesta ST, and perhaps more than the next generation Clio RS, which is expected to start from around £18k.
Towards the end of 2012, Peugeot released a limited edition model, which sold out almost immediately at £20,495. The LE model promised UK buyers to be among the first to take delivery of the GTI, when deliveries start in May.
Read the review of the quickest 208 currently on sale, the THP 156, here.