Porsche 997 airlift suspension
Cargraphic Airlift suspension kit makes owning a supercar a bit less inconvenient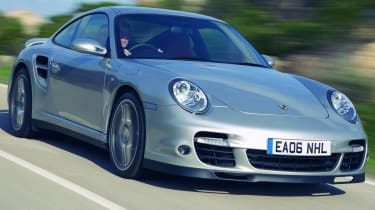 Supercars aren't exactly known for their practicality. Their ridiculously low ride heights can make speed bumps, ramps and kerbs pretty much impassable. In response, Cargraphic has announced an airlift suspension system for the Porsche 997 to help make owning a supercar a bit more reasonable.
With Cargraphic Airlift fitted to the car, the front axle can be lifted up 55mm to provide additional road clearance. The air bellow unit is fitted underneath the suspension camber plate and doesn't affect the choice of wheel and tyre combinations or the PASM (Porsche Active Suspension Management) on the 997.
The Airlift Suspension is available in two versions – there's the complete kit with Bilstein B16 suspension or there's the upgrade kit for OE coilover suspensions. Included in the kit is two air bellow units, a remote control, a control unit with speed control and some detailed fitting instructions.
Click here if you would like more information.