Porsche buys Nardo test track
The huge Italian test and development centre, featuring a 7.7-mile high-speed bowl, has been taken over by Porsche.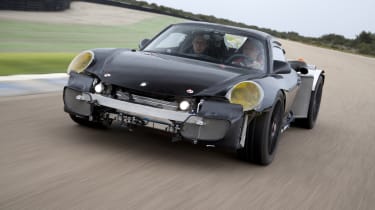 Porsche, which also carries out development work for several other manufacturers, has purchased the entire development complex known as Nardo from its previous Italian owners Prototipo.
The high-speed bowl which dominates Nardo, has seen many great supercars attempt top speed runs - including the Jaguar XJ220 world record-breaking 217mph, as well as the McLaren F1's 231mph high-speed run in 1998.
Located in the southern Italian region of Apulia, Porsche says that the facility will continue to grow, and will continue to be fully available to clients for testing purposes - the mild climate offers the perfect stable environment for car testing.
Speaking about the acquisition, CEO of Porsche, Matthias Müller commented: 'The Nardò proving ground with its high-speed and vehicle handling circuit ideally complements our facilities in Weissach', and Malte Radmann, CEO of Porsche Engineering also added: 'Thanks to the mild climate, the Nardò proving ground can be used throughout the year in three shifts around the clock, seven days a week.'
Click here to watch evo drive the Porsche 918 development muel at Nardo