Watch - 1969 Porsche 911 S rally car | INSIDE evo
evo's Richard Meaden takes the 1969 Acropolis Rally winning car for a drive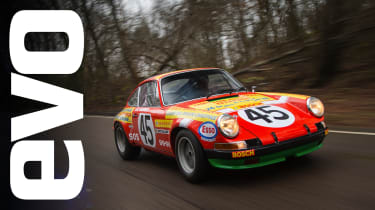 With around 275bhp from an air cooled six-cylinder engine, this incredible factory-built 1969 911 S rally car has to be one of the greatest Porsches in the world.
evo's Richard Meaden was lucky enough to take the car out for a spin recently and for those interested, we've put together a video all about the stunning car.
Valued between €1.100.000 and €1.300.000, the car itself is due to go on sale at RM Auctions Paris on the 4th of February.
The Porsche took the win at the 1969 Acropolis Rally, as well as taking part at Le Mans three times. The car is fully restored and as you can hear in the video, sounds truly astonishing.