Ask Goodwin - What car will you be driving when you're 80?
Does the thrill of driving ever get old?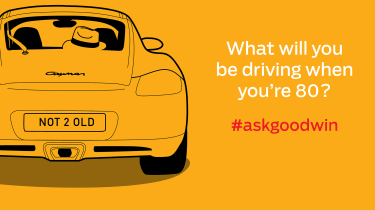 What will you be driving when you're 80? Ian Archer, Dublin
I say, steady on. I'm not even as old as Harry Metcalfe. I know what I want to be driving in 2042: a Porsche Cayman or 911 with a manual gearbox. My plan, which I wrote about recently in a column for a mate's mag, is to wait for the mortgage to be paid off (in about six years thank God) and then buy a new Cayman S. It'll probably have a turbocharged engine by then, but looking at Porsche's current philosophy, hopefully a foot-operated clutch. With luck it won't look much different to the current model. This Cayman will be a keeper that I will own until either I'm no longer allowed to drive, which some colleagues might say is a day that can't come soon enough, or until it falls to pieces. The latter is fairly unlikely.
A more thought provoking question might be what will it be like to drive when you're 80? Now that is one to ponder. I'm pretty convinced that fully autonomous driving cars are further away than people think, and conversations with engineers at car companies who are working on such systems tend to agree. A more pressing worry of mine is that cars that won't let you speed are on a nearer horizon. Ford's Intelligent Speed Limiter system, which debuts on the new Ford S-Max this summer, could get politicians and safety nannies pitching for it to be fitted to all cars. Worse, unlike Ford's system, it could be impossible to override them.
Hopefully we will be able to still drive our classic cars. I think what will happen is an entertaining reversal of roles. When most of us first started driving we'd complain about old people out for a Sunday drive holding us up in their Allegros. I wonder if, when we are elderly and have hats on the parcel shelf, the young people will have the opposite complaint: 'My car was taking me for a drive last Sunday and some old bastard in one of those old cars that you have to drive yourself went past me at a ridiculous speed. It said Porsche on the back.
Ask Goodwin is a new weekly column on evo.co.uk by Colin Goodwin, one of the UK's most popular motoring journalists – and one of the early contributors to evo magazine. 
You'd like Colin – he drove an amphibious vehicle across the English channel (it caught fire half way) and he held the Guinness World Record for the highest speed in reverse (104 mph in a Light Car Company Rocket). More recently he drove from England to the Geneva motor show… in a Caterham 160.
Oh, and when he visits the evo office he does so in a plane that he built in his shed…
Check back every Wednesday lunchtime for a new column, and get involved with #askgoodwin either at @askgoodwin (Colin's Twitter) or @evomagazine. 
Make sure to get involved in the Ask Goodwin debate on our Facebook page here. You can also put your vote in via the poll system found on the evo.co.uk homepage