Porsche will abandon Le Mans and enter Formula E in 2019
Porsche will end its involvement in the World Endurance Championship at the end of this season and gear-up to enter Formula E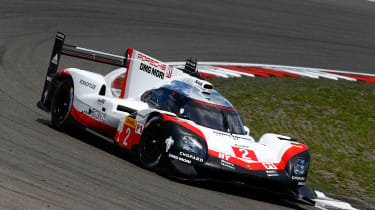 After three Le Mans wins in a row, as well as two driver and constructor titles in the World Endurance Championship, Porsche has annouced it will pull out of the WEC LMP1 class at the end of this season. This is to help facilitate its move to Formula E as Porsche will join Audi, Mercedes, Jaguar, BMW and many others in the all-electric single-seater championship in 2019.
Porsche has declared that the electric Formula E championship is more closely aligned with its future. It intends to develop a rage of fully electric sports cars next to its more traditional, 'pure' GT cars, while also bringing the battery-powered Mission E car to the road by 2025.
> Read about Mercedes decision to quit DTM and enter Formula E
The future regulation changes for the Formula E championship mean that race teams will have greater freedom to develop their own powertrains and batteries. Porsche believe that the technology they will need to develop to be competitive in Formula E will truly benefit its future road cars.
Porsche's sudden announcement to end its involvement with LMP1 has ruffled a few feathers at the ACO and the FIA, the organisers of the 24 Hours of Le Mans and the WEC. Porsche was involved in adapting the LMP1 class rules to help the championship stay relevant, which makes its recent decision to abandon the class seem rather shocking. However, Porsche will still defend its driver and manufacturer titles until the end of the season, in a hope to turn them both into a consecutive hat trick.
From an outsider's point of view, a relatively short race held on tight, low-speed city course – like most of the Formula E circuits – doesn't seem anywhere near as beneficial to sports car development as the ultimate high-speed, durability test that is the 24 Hours of Le Mans. Especially if the race regulations could be tweaked by a manufacturer to make them more appropriate. But, considering the vast number of manufacturers vying to get involved with Formula E, you'd have to guess there's more than just an affordable, golden marketing opportunity and a real chance to push some technology.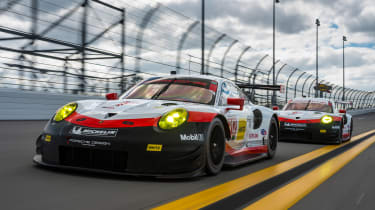 Porsche isn't totally abandoning the smelly, oily world of petrol-powered race cars, though. It will put a greater emphasis on the GT classes than it did before. Michael Steiner, Member of the Executive Board for Research and Development at Porsche AG, said: 'The quality of both WEC and IMSA have led us to strengthen our commitment and concentrate our energies on using the 911 RSR. We want to be number one. To do that, we must invest accordingly.'