Porsche Taycan Turbo S beats Tesla for production EV Nürburgring record
The Taycan Turbo S has retaken the lap record from the Tesla Model S Plaid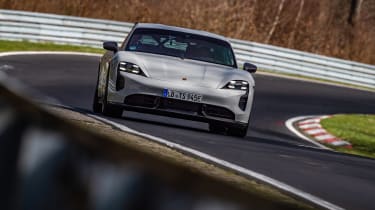 Porsche has set a new lap record around the Nürburgring Nordschleife for a production electric car with its Taycan Turbo S. Porsche initially took this record back in 2019 just before the Taycan's initial launch, but after being pipped by the latest Tesla Model S Plaid in 2020, Porsche has vindicated itself thanks to some choice upgrades. 
The new time of 7min 33sec, completed by Porsche development driver Lars Kern, is just over 2sec faster than the Plaid around the 20.8km circuit. The Tesla's time actually broke a previous record set by Porsche with a pre-production Taycan that set a time of 7min 42sec, 9sec slower than the new record time. 
What's changed? Aside from completing the record with the Taycan Turbo S, rather than the standard Turbo, Porsche has also fitted a new Performance Pack that's available through Porsche's accessories range. The only hardware changes are a set of specific Pirelli P Zero Corsa tyres, but there's also a corresponding tune for the 48V active anti-roll system (or 4D Porsche Dynamic Chassis Control in Porsche speak) to make the most of the grippier rubber.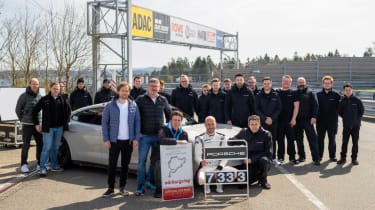 Together, the new hardware gave the Taycan the edge to usurp the Tesla's time, an impressive feat given the Porsche on overboost is 254bhp down on the Tesla's 1004bhp power figure, not forgetting a majority of the lap would have been done with an even larger 388bhp disadvantage when not on overboost.
As with all Nürburgring lap record attempt vehicles, aside from a racing seat and safety cage, the car's must be in a road-going specification. 
Despite Porsche's elation, the lap record isn't likely to stay with the Taycan for long, as more and more car manufacturers work on high performance EVs, not forgetting those four-figure electric hypercars that have finally started inching closer to production. How long until we see a fully-fledged electric sports car take the lap record? I don't think we'll have a long wait to find out.