Porsche's secret museum bunker video
The Porsche museum in Stuttgart holds some of the most important Porsche models ever made, but it's just the tip of the iceberg, as this video explains...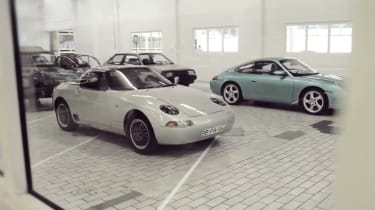 With the ever-growing collection of historic Porsches, it's impossible to house them all in the Museum, and until recently, the collection was spread out in a number of different places.
Porsche has found a new facility, which will house the entire 505 car collection with room for future growth – and it will act like a hub for all the Porsches coming and going to events around the world.
The collection holds some interesting gems from the company's history, including an Audi RS2 Avant, which Porsche re-developed, and the interesting C88 prototype, which was designed and engineered by Porsche as a family car for the Chinese market in 1994.
Read the full story about the Stuttgart Porsche museum here.