Porsche 911 RSRs at Le Mans 2013
The 2013 Le Mans 24-hour race will see a number of Porsche 911 RSRs compete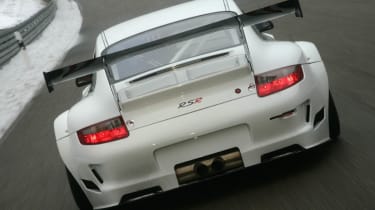 Porsche returns to Le Mans in 2013. There will be two factory-run 911 RSRs competing at the round-the-clock race at La Sarthe, and they'll both be new 991-generation cars.
The factory squad 'Porsche AG Team Manthey' will run both 911 RSR race cars. Car number 91 will be driven by works drivers Joerg Bergmeister and Patrick Pilet throughout the 2013 Le Mans season, with Timo Bernhard accompanying them for the Silverstone, Spa and Le Mans rounds.
RSR number 92 will be piloted by works drivers Marc Lieb and Richard Lietz, complemented by Romain Dumas for Silverstone, Spa and the series title race.
These two cars compete in the LM GTE Pro class – fighting Ferrari 458s, Chevrolet Corvettes and the returning SRT Vipers – while a number of 997-generation Porsche 911 RSRs will compete in the amateur class. Among these will be the Dempsey Racing-Proton car, the team so named because its lead driver is Hollywood actor Patrick Dempsey. He competed in the 24-hour race in 2009, too, finishing ninth in the GT2 class in a Ferrari F430.