Dean Stoneman Porsche Carrera Cup livery debut
A competition to design a new livery for Dean Stoneman's Porsche Carrera Cup racer, has been seen by its creator at Silverstone this weekend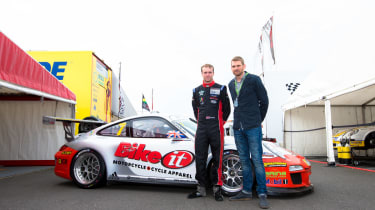 evo recently ran a competition to design a new livery for Dean Stoneman, the Porsche Carrera Cup racing driver, who's making a comeback following his recent recovery from cancer. Read the full story here.
The livery had to include the Redline Racing Team's latest headline sponsor, Bike It. Following a number of great entries from around the country, Dean, Bike It and the evo team picked a winner, and the car was wrapped in time for the race at Snetterton on August 3-4.
The creator of the winning design, Mark Dyment, received two VIP passes for a Porsche Carrera Cup GB round at Silverstone on 29 September - with pitlane access – on the very same weekend that Dean took yet another win in the series. Now third place in the Championship standings, Stoneman's hopes for a strong championship finishing position are still strong.