Porsche 911 through the ages
The new 991-spec Porsche 911 can trace its roots back through half a century of automotive evolution. Richard Meaden charts the iconic coupe's journey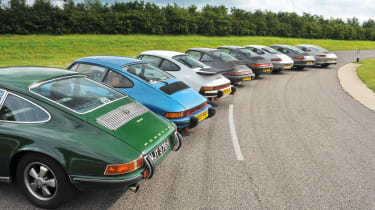 Has any single model of car come under more intense scrutiny than the Porsche 911? From its introduction in 1964 to this year's re-invention (the most radical yet), Stuttgart's iconic, anachronistic sports car has fuelled debate and divided opinion like no other.
In this unashamed orgy of 911s, we're taking what we hope will be an enlightening trip back through time, starting with the new 991 model and working back through the 997, 996, 993 and 964 versions to the 3.2 Carrera, 3.0 SC and a delightful 1969 2.2T. For the sake of consistency and purity, all are manual and rear-wheel drive, while Jethro Bovingdon and I have vowed to arrive at the Porsche Experience Centre at Silverstone leaving prejudice, pre-conceived ideas and rose-tinted glasses at the plate-glass door.
This test isn't about raw performance, so we won't be attempting standing-start acceleration comparisons. Nor is it about lap times and cornering forces. Instead this gathering is about the all-important emotion and tactility that has defined 911s of all eras, and how that feel and connection may or may not have been eroded over the years.
Sadly there are one or two gaps in the group, most regrettably a very early short-wheelbase 2.0-litre, which we simply couldn't secure in time for the test. We'd have loved to include a 2.7 Carrera too, as it would have neatly plugged the gap between the '69 2.2T and the '79 3.0 SC. But we hope you'll agree eight 911s spanning six decades ain't too shabby.
NEXT PAGE: Porsche 991 Carrera (2012-)