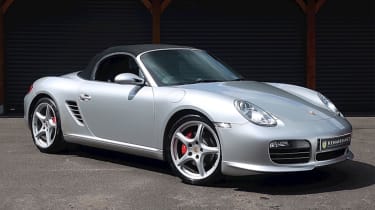 The original Porsche  Boxster was a huge success, opening up the marque to a host of new customers, so when the second-generation version arrived in late 2004 it wasn't a surprise that it followed a similar formula. While the 987 Boxster retained only 20 per cent of the 986's DNA, it looked similar, even despite the new car's exterior being influenced by the recently launched Carrera GT.
The entry-level 987 carried over the 2.7-litre flat-six from the 986, but with power increased to 237bhp and torque to 199lb ft (up 13bhp and 7lb ft respectively); 0-62mph took 6.2sec – 0.2sec quicker – and there was a more prominent soundtrack, too. For the Boxster S the 3179cc flat-six was retained but now had 276bhp and 236lb ft (up 20bhp and 7lb ft), making it good for 0-62mph in 5.5sec. These figures were with the standard manual gearbox (five- speed for the non-S, six-speed for the S and optional on the 2.7), but a five-speed Tiptronic was available on both models.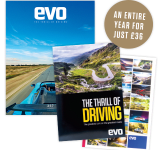 Subscribe to evo magazine
evo is 21 and to celebrate, we're returning to 1998 prices! Subscribe now to SAVE 39% on the shop price and get evo for its original cover price of £3.00 an issue, plus get a FREE gift worth £25!
The non-S 987 came with 17-inch wheels, the S with 18s (19s were an option) and both cars were equipped with PSM (Porsche Stability Management). An extensive options list included Porsche Active Suspension Management (PASM), Porsche Ceramic Composite Brakes (PCCB) and a Sport Chrono Package for a faster engine response.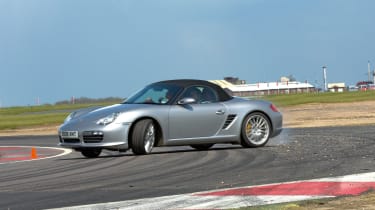 In March 2006 a Sport Design Package could be added – front spoiler lips, a modified rear wing and a rear diffuser – while in August both models were given a mild power upgrade. VarioCam Plus valve control endowed the basic car with 242bhp (shaving 0.1sec from its 0-62mph time), while the S saw a more substantial 15bhp gain (bringing it up to 291bhp) thanks to the 3.4-litre engine from the Cayman S. This engine also increased the S's torque to 251lb ft and cut its 0-62mph time to 5.4sec. At the same time a revised Tiptronic S transmission was added to the options list, while the coolant and oil fillers were made more accessible too.
The first of the 987-generation special- edition models arrived in March 2008: the RS 60 Spyder, an homage to the 1960 718 RS 60 Spyder. Distinguished by a unique front spoiler, GT Silver metallic paint and 19-inch Porsche Sport Design alloys, it had a modified sports exhaust and an output of 299bhp. PASM was standard, as was a red leather interior and red hood, although there was the option of dark grey leather in conjunction with a black roof. Just 1960 were built.
> Porsche Boxster S (987) review
September 2008 saw the introduction of another special edition, limited to just 500 units: the snappily titled Boxster S Porsche Design Edition 2. It used the 299bhp engine from the RS 60 and was finished in Carrera White paint.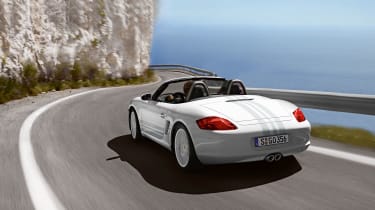 Nothing shouts 'new model coming' quite so loud as a couple of special editions, so it wasn't a surprise when the Gen 2 987 was announced in late 2008. The biggest news was all-new engines, also seen in larger form in the 997.2 911. The non-S Boxster now had a 2.9-litre unit with 251bhp and 214lb ft, while the 3.4 in the S gained direct injection to give 306bhp and 266lb ft. Performance was improved, with 0-62mph times of 5.9 and 5.3sec respectively, and the engines did without the problematic intermediate shaft of the previous units. The six-speed manual was now standard on both cars and a seven-speed PDK was introduced in place of the Tiptronics. Steering and suspension were tweaked, wheels grew in width, PSM was revised and a limited-slip differential was offered, too. The styling was also updated, but the changes weren't radical, with a new headlight design (bi-xenon lights were offered for the first time) and LED rear units.
In early 2010 the Boxster Spyder arrived. Designed to sit above the S, it was a lighter by 80kg (at 1275kg) and had a 316bhp version of the 3.4-litre flat-six. The styling was mildly revised, particularly at the rear, with an elongated rear panel and a speedster-style fairing to cover a basic hood. Along with the weight-saving measures (a primitive manual roof, aluminium doors and engine cover, carbon bucket seats) was a chassis lowered by 20mm, a wider track and an LSD. The price was a hefty £46,387, but it was worth it.
The last 987 model was the limitedrun Boxster S Black Edition. It used the Spyder's 316bhp engine and 19-inch alloys and, as per its name, featured black paint, upholstery and trim. It launched in 2011, with just 987 examples being produced, and the following year the 987 was replaced by the all-new 981. 
Specs (2009 Boxster S)
| | |
| --- | --- |
| Engine | Flat-six, 3436cc |
| Max power | 306bhp @ 6400rpm |
| Max torque | 265lb ft @ 5500rpm |
| Transmission | Six-speed manual gearbox, rear-wheel drive |
| Tyres | 235/40x18 front, 265/40x18 rear |
| Weight (kerb) | 1355kg |
| Power-to-weight | 229bhp/ton |
| 0-62mph | 5.3sec (claimed) |
| Top speed | 170mph (claimed) |
| Price when new | £40,388 (2009) |
Checkpoints
Engine
One of the key areas to check on any Boxster is around the bell housing. An oil leak here could indicate a crankshaft oil seal failing, but as long as oil isn't dripping on the floor, replacement can usually wait until the car needs a clutch.
Of more concern would be bearing-type noises from the rear of the engine. According to James, this could indicate a possible failing bearing on the rear of the intermediate shaft, which transfers drive from the crankshaft to the camshafts. 'The bearing is a "sealed for life" item but engine oil forced in by the cam chains can wash the grease out,' says James.
Barry Hart at Porsche engine specialist Hartech takes up the story: 'If the bearing fails then generally the engine will need rebuilding, but if the gearbox is out for a clutch change then the bearing can be checked and, if there is play, we can replace it without removing the engine. We'd recommend buyers walk away from cars with a noisy bearing.'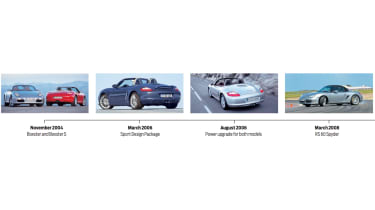 Problems with Mass Air Flow (MAF) sensors are not uncommon, causing hesitation when driving. Replacements cost £130. Ignition packs also have a habit of cracking and causing misfires.
A problem specific to the 986 variant is cracking coolant expansion tanks, which leak water into the boot. Also, oil separators can fail, which shows up as either a running fault or blue smoke in the exhaust. This shouldn't be confused with a puff of blue smoke on start-up, though, as this is common with flat engines.
Finally, check the coolant radiators and air-conditioning condensers at the front of the car. 'Leaves can get stuck in the ducts and as they mulch down they rot the radiators,' says James.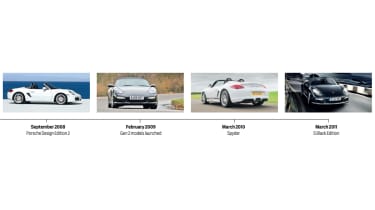 Transmission
Generally, the various transmissions are very reliable. However, the six-speed gearbox can pop out of second gear. The solution is a strip-down and rebuild, using a modified detent.
Suspension, wheels and brakes
'The Boxster isn't particularly heavy on brakes but they can corrode if the car isn't used,' says James. 'Owners should drive the car after it has been washed to dry them off.'
The Boxster also suffers from suspension bush wear. 'Bottom-arm bushes last around 30,000-40,000 miles,' says James. 'They then start to delaminate and begin creaking. Replacements are £200 each. Also, the rose joints on the trailing arms, where they meet the body, can wear and knock. These are £135 for the fronts and £200 for the rears.'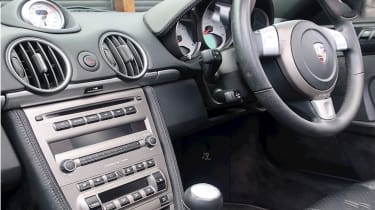 Bodywork
There are no real corrosion issues, but James recommends checking the roof operation: 'Make sure there are no creaks as the roof goes down and up, possibly indicating a dry joint in the mechanism. Also, check behind the seats for water. If the drain holes under the roof get blocked, water can get in here.'
Interior
The 987 interior is harder wearing than the earlier versions, but check all the electrics work properly, as the Boxster was one of the first cars to use CANBUS technology – individual electrical systems controlled by coded signals sharing common wiring.
'I bought one'
Matthew Downing owns the stunning 2007 987 Boxster S you can see in these pictures, and he loves everything about it.
'This is my second Boxster – I had a facelift 986 S before. I was specifically looking for a high-spec car this time and found this one with the full leather package, sat-nav and Bose audio system. I bought it when it was slightly less than three years old and paid half the original £53,000 list price. That's a lot of car for the money.
'It's an amazing thing. The handling is very predictable and it's easy to drive and enjoy. It's fast too – it's basically got the same power and weight as a 2000 911, with the added bonus that you can drop the hood at 30mph.
'It's also amazingly practical. My girlfriend and I drove to the Loire Valley in it this summer and brought 40 bottles of wine back in it – as well as our luggage.
'I'm reluctantly selling it, because I live within walking distance of work and so hardly ever drive it now.