'The Porsche Taycan is a terrifically comfortable and able bit of kit, but as a sports car, I'm not so sure'
A drive in a Taycan leaves Porter reflecting on The Meaning of Liff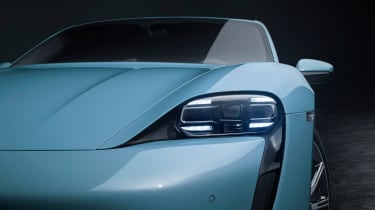 Many years ago I discovered a book called The Meaning of Liff, which purports to be a dictionary of things for which there aren't any words yet. First published in 1983, The Meaning of Liff was written by The Hitchhiker's Guide to the Galaxy author Douglas Adams and John Lloyd, who would go on to produce Blackadder, Spitting Image and QI. 
As you'd expect with two such mighty brains behind it, The Meaning of Liff is as well observed as it is well written, with the added twist that all the entries within it are place names, since, according to the original book's intro, these are words that had hitherto spent their time doing nothing but 'loafing about on signposts pointing at places'. These are just some of my favourite Liff entries:
Articlave (n.) A clever architectural construction designed to give the illusion from the top deck of a bus that it is far too big for the road. 
Clathy (adj.) Nervously indecisive about how safely to dispose of a dud lightbulb. 
Frolesworth (n.) The minimum amount of time it is necessary to spend frowning in concentration at each picture in an art gallery in order that everyone else doesn't think you're a complete moron. 
Naugatuck (n.) A plastic sachet containing shampoo, Pollyfilla, etc, which is impossible to open except by biting off the corners. 
Shoeburyness (abs. n.) The vague uncomfortable feeling you get when sitting on a seat which is still warm from somebody else's bottom.
I was thinking about The Meaning of Liff last month when I was having my first go in a Porsche Taycan. And, for reasons I'll come to in a sec, the word that came to mind was 'Yesnaby'. I found there's a lot to like about the Taycan, in this case in 483bhp 4S trim, and it starts with the way it looks. 
Most EVs are tall and chubby, desperately trying to hide the height they need to accommodate a large battery pack in the floor and then plonk people on top of it. Without recourse to any of those neat car design tricks used to break up slabby body sides and fool the eye into ignoring the fat floorpan at the bottom, the Taycan looks genuinely low and sleek. But then it is genuinely low and sleek; you drop down into it as you would a 911. 
The relative lack of frontal area pays dividends when you get on the motorway and it cruises at normal motorway speeds without chewing through its last charge at a terrifying clip. I left London with a full battery, made a sandwich-and-a-slash-length stop hooked to a fast charger near Preston, and was in the heart of the Lake District with masses of range left. 
> Porsche Taycan review – the best EV of the bunch
Truth be told, if I'd nursed it up that last stretch of the M6 before turning off to Keswick I think we could have made it without plugging in at all. The stop was a security blanket that could be seized because the car's occupants needed a breather by then. So the range on the (optional) 93.4kWh battery is good. The interior is nice too, all the tech works well, and the ride on air suspension is terrific. A class act all round and probably the finest electric car I've driven to date.
Then I went for a drive on some delightful Lakeland roads and the Taycan showed that it's not just skilled at purring smoothly in a straight line. You can chuck it around to a remarkable degree and, though you're aware that it's carrying a bit of timber, it hides its weight well, those 2220 kilos making themselves felt only when you need to brake hard. Otherwise, you just point and shoot, scudding effortlessly at a brisk clip across the twisting and undulating tarmac. It's very impressive. 
And yet… it's almost too easy. With no gears, there's not much for you to do except work the pedals and maybe sometimes toggle the regen braking using the thoughtfully provided button on the steering wheel. With instant and immense torque you can emerge from any corner and immediately start scampering up to whatever speed you feel would suit. It's good, but it's a bit one-note. The grip and the grunt are there in spades but there's little texture to them.
Don't get me wrong, I like electric cars a lot. I've owned two of them. And if I had the chunky sums of cash needed to make a Taycan my everyday car, I'd be on it like a shot. It's a terrifically comfortable and able bit of kit in the real world. But as a sports car, I'm not so sure. And that's where 'Yesnaby' from The Meaning of Liff comes in. If you're asking whether Porsche has come up with a sports saloon that's as wonderfully detailed and interactive as its excellent sports cars, then my reply would be: yesnaby. 
Yesnaby (n.) A 'yes, maybe' which means 'no'.