Northern Ireland is beckoning BTCC with a new Lake Torrent race circuit
The Northern Irish Government has given the go-ahead for a new racing circuit to be built at Lake Torrent near Belfast.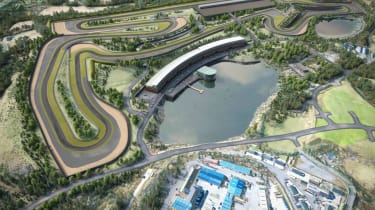 Manna Developments' project to redevelop the 157 acre site in Coalisland has been green-lit by the district council. Lake Torrent circuit will be easily accessible from the M1 motorway, a forty minute drive from Belfast and within two hours of all Northern Ireland residents. The initial construction phase, which includes the race track is expected to be completed by 2018, the whole complex should be fully functional by the following spring.
The track has been designed in accordance with FIA and FIM guidelines – approval from the respective duo should be a formality. Lake Torrent's hierarchy will vie for hosting rights of the BTCC and UK rounds of World Superbike Championship, with hopes for it to become a regular staple in those event calendars. The finished complex will constitute a fully fledged race setting with garages, hospitality facilities and a capacity for 30,000 spectators.
> Sign up for the next evo track evening
The 12 turns including high speed complexes and technically testing corners will cover 2.23 miles and will rise and fall through 30m of elevation change. Good news for local petrolheads, the track's layout has been penned with public users in mind, open track days can be expected. Driven International was appointed in a consulting capacity to establish the track layout, the firm's previous works include the World Rallycross circuit at Silverstone.  
The local council is contributing £29m in funding to rejuvenate the area formerly home to clay pits. The sizeable investment should translate to large-scale construction employment, create forty full-time positions and temporary employment on event days. Talking about the project, Chair of the Planning Committee, Councillor Cáthal Mallaghan said 'Lake Torrent is a hugely impressive and ambitious proposal which will transform a substantial and unused area of depleted clay pits into a world-class motorsport centre.'
The announcement reinforces the vibrant motorsport scene in the UK and follows the news of another new racing venue set to be built, the Circuit of Wales.