Given a fairly long period of time and an even longer piece of paper, we'd struggle to come up with the names of 750 different Renaults. But that's how many of the manufacturer's models you'll find squirrelled away in Renault's storage facility in France.
The French carmaker has an astonishing collection of cars at its disposal and perhaps more remarkably, the majority are in working order. The number isn't all that surprising when you consider that the firm is celebrating its 120th anniversary in 2018 and that Renault counts not just road cars among its number, but a huge number of competition vehicles too from its illustrious history in racing and rallying.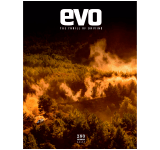 Subscribe to evo magazine
Subscribe today to have every issue of evo delivered straight to you. You'll SAVE 39% on the shop price, and get evo for its original cover price for a whole year!
Today at Renault's Flins plant near Paris we have access to a much smaller number than that - just over a hundred in fact, and an even smaller collection are available to drive, but it's a fascinating window into the history of one of the world's most significant (and in partnership with Nissan and Mitsubishi, largest) car companies.
That history began with the appropriately-named Type A, built by Louis Renault himself in 1898 and sold on the basis of its unusual capability at the time, climbing the steep Rue Lepic up to Montmartre in Paris on Christmas Eve of that year. The subsequent decades cemented the company's place in the automotive world of the era, trading on quality and distinctive styling - Renault's earliest cars are notable for their slanted noses, their radiators situated behind the front-mounted engines, rather than up front.
The company grew rapidly through the World War I, not from building cars but from supplying ammunition, engines and tanks, which enabled rapid expansion in the years between the first and second World Wars. While automobiles were still largely aimed at the wealthy, Renault began to branch out into producing more affordable models too.
World War II was where the company's history made a significant turn. Louis Renault was arrested and imprisoned in 1944 for collaborating with the Nazis and died later that year, and in 1945 the company was nationalised as Régie Nationale des Usines Renault - remaining nationally owned until 1995.
It was these postwar years where Renault has made the strongest impact on automotive culture. First came the 4CV of 1946 - an inexpensive small car along the lines of the Volkswagen Beetle - and then the more upmarket Fregate from 1951, with more than a hint of the style of American cars from the 1950s.
Perhaps even more important were 1961's Renault 4 - which still holds the title as the best-selling French car of all time, with more than eight million built - and 1966's Renault 16, which effectively set the format for the modern family hatchback.
Immaculate examples of each sit on the display we were allowed to see, each beautifully preserved and very much in running order. Some of the brand's less well remembered models sit around too, from the "pear-shaped" Renault 14 which shared its mechanicals with Peugeot, to a bright orange Renault 12 that gave customers a more traditional shape as Renault's other products became more idiosyncratic.
The 16 neatly illustrates Renault's knack for anticipating the needs of customers, a situation echoed by the first Espace, co-developed with Matra in 1985, 1992's one-box Renault Twingo supermini, and the 1996 Megane Scenic, which brought Espace thinking to a wider audience. It's difficult to forget the Avantime either, shown in concept form in the collection. Never a strong seller, it showed Renault's capacity for thinking outside the box.
For people like us, Renault's motorsport and performance car heritage is equally important. Motor racing itself was founded in France, after all, but Renault holds the claim to the first ever Grand Prix victory, thanks to Hungarian driver Ferenc Szisz at Le Mans in 1906.
The efforts of Jean Rédélé's Alpine and Amédée Gordini's eponymous firm brought Renault's cars - or cars powered by Renault - to the forefront of motorsport in the 1950s, 60s and 70s, with victories at the top levels of rallying and endurance racing to their names.
Renault itself hasn't been short of success at an international level either - it's F1's seventh most successful constructor of all time with 35 victories (ahead of such luminaries as Benetton and Cooper) and as an F1 engine supplier is second only to Ferrari, despite the former's much longer history in the sport.
The collection also houses several of Renault's successful British Touring Car Championship racers, with Menu's title-winning 1997 car hunkered in one corner and a later 1999 car driven by Jean Christophe-Boullion positioned in a separate warehouse - and featuring a familiar sponsor's logo…
We've been spoiled for choice when it comes to performance road cars over the years though, from those early Alpine and Gordini efforts (there's a stunning Renault 8 Gordini at one end of the collection) to both the mid-engined and front-engined turbocharged Renault 5s, the barmy Clio V6 and fantastic Megane R26 F1 Team, and lesser-spotted models like the Renault 11 Turbo and the ultra-rare Safrane BiTurbo.
Then there are the collection's oddities. Renault's Fiftie concept, for instance, a mid-nineties concept designed to rekindle the style of the classic 4CV, and mid-engined too - based on the Sport Spider's platform. There's an example of the 750bhp V10 Espace F1 too, a spectacular 21 Superproduction car, and perhaps oddest of all, the Projet 9 - a rear-engined, 1.7-litre V8-powered Jetsons-mobile from 1959, designed to explore the possibilities for maximising interior space.
There's still interest to be found in Renault's modern lineup, whether that comes in the eco-friendly guise of the tiny Twizy and pert Zoe, the rear-engined Twingo range, or Renault Sport's latest Megane - even if the rest of the range is populated with unremarkable hatchbacks and crossovers.
As a look around the company's collection shows though, there's always the capacity to surprise, so there may be even more stories to tell by the time Renault's 130th anniversary comes around.