The Renault Sport Clio V6 is one of those cars that just seemed to slip through the net. Little other explanation could be given for a major manufacturer letting such a remarkable creation reach the market seemingly unhindered by its bean-counters.
We're glad it did though, as Renault Sport's mid-engined marvel was one of the most uniquely appealing cars evo has ever tested at any price. The V6 Clio's blistered bodywork hid a wider track designed to accommodate its Laguna-sourced, mid-mounted V6, but it might as well have been bursting at the seams trying to contain the Clio's effervescent character.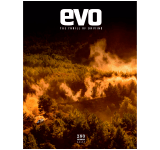 Subscribe to evo magazine
Subscribe today to have every issue of evo delivered straight to you. You'll SAVE 39% on the shop price, and get evo for its original cover price for a whole year!
> A history of Renault Sport's craziest creations
While early models had a reputation for spikiness on the limit the concept was refined over time and later V6s managed to be both more usable but also better to drive than earlier models. Either generation stands out on the road like few other cars - and rising prices suggest the market hasn't taken long to cotton on to their value as drivers' cars. Here's what made the Renault Clio V6 special.
Renault Clio V6 in detail
The Clio V6 made its first appearance in evo way back in issue 007, May 1999. It was our cover star in fact, and we proclaimed it 'the world's smallest supercar'. The term was justifiable: while its engine might have had humble origins behind the nose of the contemporary Renault Laguna, dropping it in the then-compact Clio body gave it strong performance figures.
Not quite as strong as Renault claimed of the 250bhp prototype, since the final production car (as driven in evo 026, December 2000) had been toned down a little to 230bhp, and in a pure 0-62mph sprint it was only a couple of tenths quicker than the Clio 172. But its delivery was nothing to be sniffed at, and a range of tweaks - new pistons, a higher compression ratio (11.4:1), enlarged inlet ports, a lighter flywheel and raised rev limit - ensured the V6 wasn't some languid repmobile lump thrown in with no thought given for its new task.
> Renault Clio V6 2005 buying guide
The rest of the car was equally highly developed, featuring a track 110mm wider at the front and 138mm wider at the rear, shrouded by bodywork 171mm wider than the 172 and with a body 66mm lower than a regular Clio of the era. Wheels were 17in OZ units (2in larger in diameter than the 172's Speedlines) and the V6 ran a proper staggered supercar tyre setup, with 205/50 ZR17 rubber up front and 235/45 ZR17 astern. Those numbers seem almost dainty today, but squeezed underneath a car only 3803mm long, it had attitude like no other supermini.
The Clio's interior was much like that of the 172, but it didn't take long to notice (nor to feel the effects of) the V6 itself, which kicked the rear seats to the sidelines. Even if you never stared backwards, the raised gearlever tower would also give you a hint, and today the quirky confines probably wouldn't be as disappointing as they were back when new.
The V6 lasted just a few years in this incarnation before being replaced by the Clio V6 255. Unlike the original, which had been fettled and was built by Tom Walkinshaw Racing, the 255 was developed entirely within Renault Sport.
As well as wearing the contemporary facelifted Clio's visage, it aimed to right some of the wrongs of the early cars: more power, a longer wheelbase for greater stability (by 23mm), a wider front track (by 33mm), and redesigned, stiffer subframes to better control the car's geometry. Porsche was actually called in to extract more go from the Laguna V6 (and raised the rev limit as they did so), while Renault's engineers admitted at the time (evo 056, June 2003) that Renault had cribbed ideas from Porsche for its revised bump stops, too.
> Renault Sport Clio V6 vs Megane 250 Cup on track
The changes worked. The V6 was still worrying in the wet, but far less so than before and in the dry it was now a proper little performance car - if still not appreciably quicker, particularly across country on uncertain roads, than the front-engined Renault Sport Clios. But as an object? It remains one of the greatest cars Renault has ever offered.
| | | |
| --- | --- | --- |
| | Clio V6 Mk1 | Clio V6 Mk2 |
| Engine | 2946cc V6 | 2946cc V6 |
| Max power | 230bhp @ 6000rpm | 255bhp @ 7150rpm |
| Max torque | 221lb ft @ 3750rpm | 221lb ft @ 4650rpm |
| Weight | 1335kg | 1400kg |
| Power-to-weight | 175bhp/ton | 182bhp/ton |
| 0-62mph | 6.4sec (claimed) | 5.8sec (claimed) |
| Top speed | 147mph (claimed) | 153mph (claimed) |
What we said
Renault Sport Clio V6 driven, evo 026 (Dec 00), Richard Meaden
'As we peel off the autoroute and start to gain altitude, the first opportunities to stretch the Clio present themselves. Flooring the throttle unleashes a memorable soundtrack that builds from a low-rev rumble, through rich, resonant waves of mid-range muscularity to a bellowing, almost operatic crescendo at peak revs. It's a combination quite unlike anything I've heard before.
'Above 60mph or so, if your commitment starts to waver mid-corner you become instantly aware there's a sting in that absurdly broad tail. When momentum starts to overtake you, things happen pretty sharply. In the split-second it takes to register with your brain, your palms already need a wipe on your thigh and you know you've only got one chance to gather things up. This isn't a car to take liberties with through high-speed corners.'
Renault Sport Clio V6 255 driven, evo 056 (Jun 03), John Simister
'Its steering feels keen, the understeer has vanished and the Clio Renault Sport V6 255 is spearing though bends as though sucked to the road. I can feel the ebb and flow of grip that the old car glossed over, I can discover the Michelins' massive adhesion that even a full-bore second-gear bend exit won't breach. I can trust the mad mutant Clio at last.
'And I can revel in an engine whose broadband energy eradicates the awareness of mass that dulled the previous Clio V6, even though the new one weighs slightly more. The throttle response is just right, and the sound is a treat all the eway from the low-revs, Jaguar D-type-like bass-spatter, past a 4000rpm larynx-opening to a 7000rpm howl. Lovely, and not too loud to live with.'
What to pay
Renault Sport Clio V6 (phase 1)
Excellent: £17,000Good: £13,500Average: £7500Project: £5000
Renault Sport Clio V6 255 (phase 2)
Excellent: £25,000Good: £17,000Average: £12,500Project: £7500
All prices from the 2017 Octane Classic Car Price Guide 1945-2000