Renaultsport Clio 197/200
Now starting below £5000, the quickest Clio is an extremely tempting used buy. Peter Tomalin explains what to look for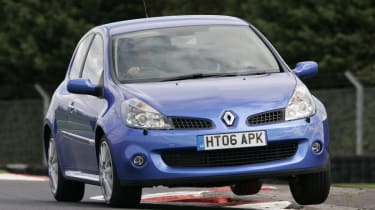 There were some – evo among them – who felt a pang of regret at the passing of the old-school Clio RS when the 197 replaced the 182 in 2006. The impressive new hatch was all grown-up, with more inches, more weight and more sophistication. The problem was that it had misplaced its predecessor's tactility, partly through its electric steering.
But if a little of the old fizz had been lost, the new Clio countered with a useful power hike – the 2-litre naturally aspirated four now made 194bhp, albeit at a high 7250rpm – greater refinement, improved cabin materials and a better driving position. It was a thoroughly modern hot hatch, and the 182 suddenly looked and felt a decade old. There was no doubting the 197's pace and it had an amusing propensity for lift-off oversteer. What's more, there would soon be developments that would recapture the missing sparkle…
At launch the car was available in a single, generous specification that included four-piston Brembo front calipers with 305mm vented discs, a functional rear diffuser, aircon, keyless entry and go, and 12-spoke 17in alloys with Clio-specific Continental SportContact tyres. The paint choice was two solid (Ultra Red, Racing Blue) and three metallic colours (Albi Blue, Deep Black and Nimbus silver).
Things started to get more interesting in 2007 when, to celebrate Renault's 2006 Formula 1 title successes, the F1 Team R27 special edition was introduced. This brought Liquid Yellow to the 197 range, along with Recaro seats, special graphics and a numbered plaque by the handbrake. It also delivered the first Cup chassis on a 197. The Cup chassis was 7mm lower with springs stiffened by 27 and 30 per cent front and rear respectively and beefed-up MacPherson struts to sharpen the steering, and it soon became a £400 option on regular 197s too. Anthracite alloys and red calipers were the visual cues, though since these are easily replicated, the only sure way of spotting a Cup chassis today is to check the colour coding on the springs – orange and blue front and rear means it's the real deal. 
At the same time, and slightly confusingly, Renault introduced the stripped-out, cut-price 197 Cup, which also featured the Cup chassis but did without steering wheel adjustment, aircon, cruise control, key-card access, electric mirrors and even the tool kit. It cost £1k less than a regular 197, though if you specced the manual aircon and Recaros, it soon cost more.
Another useful improvement came in August 2008, with a new set of gear ratios including a longer sixth that made for easier motorway cruising. Over the final few months of production, Renault offered a Lux model, which added a machined finish to the standard 12-spoke wheels, auto lights and wipers, climate control and leather upholstery.
Production of the 197 ended in summer 2009, when it was superseded by the Clio Renaultsport 200 -– essentially the same car, but with a number of upgrades that finally allowed the current-generation Clio to reach its potential. The engine got minor changes to the head casting, variable valve timing and ECU map, lifting peak power to 197bhp, adding low- and mid-range muscle and dropping the 0-60 time from 6.9sec to 6.6.
The visible differences included a revised front bumper and headlights, five-split-spoke alloys and a revised rear diffuser, while the interior was given a general spruce-up and there were some tasty new options, including an integrated TomTom satnav and a panoramic sunroof.
Once again, the real interest lay under the skin, with new spring and damper rates on all versions and a quicker steering rack for the Cup variants, which this time were available right from the off. The 200 also adopted the torque-steer-killing 'independent steering axis' front suspension geometry first seen on the Mégane R26.R. The combined effect was stunning: more power everywhere, more steering feel and tight suspension control.
Three special editions to look out for are the Gordini with its unique blue paint job and white stripes (Cup pack optional); the Silverstone, in silver with a black roof and with the Cup pack, Speedlines and Recaros; and the Raider, in matt grey or red and with 18in R26.R wheels and leather Recaros.
Be aware that both the 197 and 200 like a drink, preferably the expensive stuff, ideally 99RON. If driven gently, 30-33mpg is possible, but use all the performance regularly and you'll see that drop to 25-28mpg.
All variants make fine trackday cars, though the standard brakes can quickly fade. Otherwise they seem to stand up well to track use, though always be extra attentive to the service history. As with any car there are good and bad examples out there, but find the right one and you'll have a blast.
>> Renault Clio RS buying checkpoints
I bought one
Tom Wigley
'I bought my 200 with just 1200 miles on the clock, the previous owner having not got on with it. I'd owned bikes for a few years and at 23 thought it was time to calm down…
Love at first sight is maybe taking things too far, but having spotted a lovely Pearl White, black-roofed 'full-fat' [air-con and cruise control] 200 round the back of Harrats Wakefield, I drove it away a week later.
Two years, 26,000 miles, six trackdays, one set of front discs, two sets of pads and at least three sets of tyres later, I find the car is very predictable and laps far faster on track than its price tag suggests: the brakes are like throwing an anchor out of the window.
It never missed a beat… until the gearbox started playing up. It's a serious weak point on the car and all but admitted by Renault by them redesigning the synchros, though there's been no recall yet. Luckily, Harratts replaced the 'box under warranty and it's been fine since. I'm also now on my third set of Recaro seat covers and second steering wheel, all replaced under warranty.
There are faster cars and the Clio does lack torque, but if you ignore the 25mpg average fuel consumption, it's a bargain.'