Renaultsport Clio 182 buying guide - last of the old-school hot hatches for under £3000
The Renaultsport Clio 182 still punches above its weight. It's also now something of a bargain...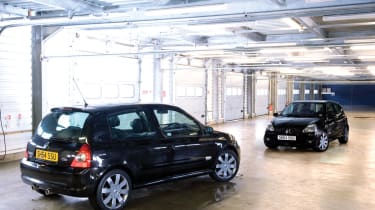 In some ways it's the perfect real-world petrolhead car. It's quick (0-62mph in 6.6sec), torquey, brilliantly chuckable, addictively interactive, cheap to run, able to carry four plus luggage… and you can pick one up for as little as £2500.
Sounds perfect already. What's more, even a high-miler will drive as it should provided it has been looked after properly. Best of all, though, is that the Renaultsport Clio 182 represents the last of the genuinely supermini-sized, genuinely hard-edged hot hatches. Cars with this degree of driving purity, this degree of truth to the spirit of the Renault 5 GT Turbo and the Peugeot 205 GTI, just aren't made any more.
Click here for page 2 - Renaultsport Clio 182 checkpoints
Two facts to help set the scene: One, back in 2006 we ran our 'Best front-wheel-drive drivers' cars' story (issue 095). The then-new Clio 197, the first Renaultsport Clio with the bigger, bulkier, heavier Clio III body, didn't make the final cut but the then-obsolete 182 Trophy did. Two, one of the engineers responsible for Trophy development kept in his garage, as a point of reference, a 205 GTI 1.9. The idea was to make a modern version of that car's blend of attributes, with a bit more robustness but the same visceral buzz. It worked.
OK, so just 500 Trophys came to the UK from 2005 (none were sold in France, and just 25 in Switzerland of all places) and today it's the priciest version. But don't despair. Any 182 with 'Cup' somewhere in its identity will be nearly as entertaining, and most 182s on sale oblige.
The story began in 1999 with the Clio 172, a car which lacked the dynamic sparkle of the previous Clio in its hot 16v and Williams guises – not least because it used Renault's first torsion-beam rear suspension and the Renaultsport engineers hadn't quite got the hang of it. Various revisions sharpened its act, culminating in a 2001 facelift with the two-part front grille that stayed right through the rest of the Clio II's life.
In 2004, the 2-litre, Mecachrome-developed engine (not related to the F-series in the hot Clio 16V and Williams, incidentally) gained a power hike to 182PS, or 180bhp. Twin tailpipes were one obvious identifier, and as with the 172 there was a Cup dimension. Central to this was Cup suspension, 10mm lower, firmer and matched to Anthracite wheels, while there was also a Cup visual pack with a front splitter and a rear spoiler.
You could either buy a hardcore Clio 182 Cup with these enhancements and a stripped-out cabin, or do as more buyers did and specify the Cup packs on the better-equipped regular 182 (as in the car pictured here). That gained you air-con and other luxuries, all worth having in a daily driver.
And the Trophy? Same engine, suspension lowered a little more, 11-spoke instead of eight-spoke wheels, Capsicum Red paint, a bigger tailgate spoiler from the Clio V6, racing Sachs dampers with thicker piston rods and remote reservoirs at the front, Trophy logos and a numbered plaque. The Trophy is the holy grail. But whichever 182 you go for, riotous entertainment will follow.
'I bought one'
George Davis
'I've had six Clios in the past three years including a 172 and a couple of 182s. This one has both Cup packs, with the Anthracite wheels and the double splitter on the front.'
So what's the attraction? 'Partly it's the value for money they give. This one has cruise control, a Tracker, ESP, half-leather and Alcantara, automatic headlights and wipers, climate control… but mainly it's the way it drives and handles. It's brilliant fun.
'I've not really had any problems, apart from the thumbrests on the steering wheel melting away. Also, the twin exhaust on the 182 rusts quite quickly. It's cheap to run if you use a specialist – a cambelt change costs about £400 instead of the £600 or more that Renault charges.
'There's also lots of enthusiast support, lots of forums. Cliosport.net is the best one, I think.'
Click here for page 2 - Renaultsport Clio 182 checkpoints