'Top speed may ultimately be pointless, but it's still fun chasing that childhood rush'
Doing the best part of 230mph in a Skoda Octavia vRS was strangely undramatic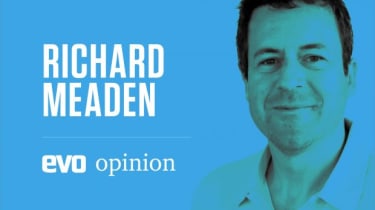 Speed. It's fair to assume that if you're an evo reader you're partial to going fast on four wheels. In which case it won't have escaped your notice that a prototype Bugatti Chiron developed purely for the task of going obscenely fast delivered on its objective (and some!) by hitting 304.773mph at the Ehra-Lessien test facility with Andy Wallace at the wheel.
The allure of straight-line speed is a curious thing. Quite why it grips so soon and so completely shouldn't be so hard to understand, for whether it's running around on foot or tearing about on bicycles we learn as children that it's fun to go fast, something that clearly remained with some of us into adulthood and shaped how we seek our kicks. In these painfully woke and politically correct times it is perhaps not the done thing to glory in the delights to be had from wantonly chasing the horizon, but firstly I'm old enough not to care and secondly, I've been fast enough often enough to know there's something very particular about the pure and simple exhilaration of going very quickly in a straight line.
> Bugatti Chiron review - the £2.5m hypercar we've been waiting for
The first encounter I had with serious speed was as an impressionable child, squished in the back of a V12 HE Jaguar XJS in, I'd guess the mid-'80s. The car – black with tan leather, in case you're curious – was owned by a very good friend of my parents who always had interesting cars. Just to paint a picture, he was also very fond of then state-of-the-art gadgets. You know the kind of thing: massive mobile phone that was basically a car battery with a handset, and a first-gen video camera you had to carry on your shoulder. Naturally I thought he was the coolest man on the planet.
So you can imagine my delight when not only did we hit an indicated 150mph in the Jag on the M3 somewhere near Fleet Services, but because the car also had a phone I was able to call my best chum (on his mum and dad's home number, natch) as we were doing it. Today such behaviour would be frowned upon, but so far as I was concerned it was the most exciting moment in my young life, and still ranks as one of my most vivid motoring moments.
Since then I've been fast many times. Often on derestricted autobahns – an unfailing mighty feeling in the right car if you're lucky enough to find a clear stretch, or dedicated enough to lurk in motorway service areas until the early hours – and once on the salt at Bonneville. Strangely, although setting a record at the hallowed home of speed is one of the driving achievements I'm most proud of, doing the best part of 230mph in a Skoda Octavia vRS was strangely undramatic, the act of going as fast as car and courage would take me across the stark, featureless dry lakebed more akin to a journey into existentialism than anything you'd describe as driving.
Fittingly the only time I've driven faster also involved a Chiron and a certain Mr Wallace alongside me, though I should stress this was just the Popular Plus version, not his 300+ special, and it wasn't even switched into V-max mode. Still, I can safely say 'only' doing 237mph was pretty bloody remarkable. Especially as it romped into the first of its two-stage electronic speed limiters like a runaway Jack Russell terrier reaching the end of its extendable leash. I won't say where we were driving, but it wasn't in the UK. Or indeed a runway or proving ground. I doubt I'll ever go quicker in a road car.
> Bugatti Chiron Super Sport 300+ marks 304.7mph achievement
Is 300mph the last great frontier for road-legal hypercars? It has to be close, though 500kph presents another nice, numerical barrier to have a crack at. Crazy though it may seem, even though Bugatti claimed to call time on setting speed records after completing the historic 304mph run, it couldn't help but point out that if the difference in air density between Ehra-Lessien and other high-altitude test locations (such as closed roads in Nevada) were taken into consideration, the thinner air and lower drag adds a theoretical 15.5mph to the Chiron's top speed. That tips the Big Bug beyond 320mph, which I think we can all agree is probably sufficient.
Is top speed the original pointless performance benchmark? Probably. It's certainly hard to argue its relevance in the age of average-speed cameras, let alone national speed limits and growing environmental pressures. That said, unlike 0-62mph times and Nordschleife laps, there's something undeniably impressive about ever-higher V-max. Probably because we all remember the time we first did 100mph, so therefore have a quantum by which to gauge what 150, 200 or even 300 might feel like.
The irony is, of course, however quick our cars are now we're all just chasing that childhood rush of pedalling a bicycle down a steep hill until your legs can't keep up, or busting a gut (and most likely a head gasket) in the fruitless quest of coaxing your ageing Mini to show an indicated ton. All of which I find strangely comforting, for it affirms why for us at least, speed really is the essence.