Hot eRS models to come from Skoda
Skoda will produce a sporty line of EVs in a similar fashion to its current line of vRS models.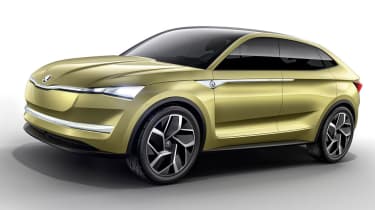 Skoda will bring a hot version of the Vision E Concept to market, which will kick-off the brand's forthcoming eRS range, according to our sister title Auto Express. It will follow the all-electric Vision E, which is due on sale at the end of 2020. eRS models will be upgraded in a similar vein to vRS models, although the electrified powertrains will be carried over from models upon which they're based unchanged.
Having revealed the Vision E last year, Skoda has confirmed the SUV-cum-coupe will spawn a eRS variant, the first of many to emerge from the Czech marque as it integrates EVs into its model range going forward. Alain Favey, Skoda's head of sales and marketing, said: 'There will be electronic versions of vRS – eRS.'
> Click here for our look at the Skoda Vision E Concept
However, a power hike – one of many modifications at the core of a vRS transformation – won't be mirrored in forthcoming eRS models. Instead, Skoda will focus on aesthetics and dynamics. 'It's about the look, it's about the sporty feeling when you're driving the car, it's about the seats, it's about the experience and I think that's what our customers like,' Favey said.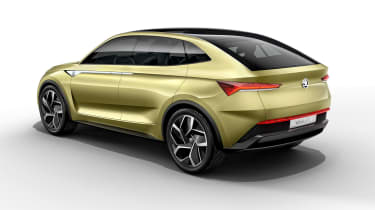 As a result, the Vision E eRS's powertrain will be made up of a pair of electric motors – one for each axle – which apportion 302bhp to all four wheels, which delivers impressive claimed performance figures for an SUV: 0-62mph takes just 6.0sec and a 112mph top speed is possible. Like the standard E Vision, which is expected to cost in the region of £30k, the eRS derivative will have a range of at least 300 miles according to Favey.
Skoda's eRS range won't arrive at the expense of new vRS models. While the Octavia is currently the sole bearer of the three letters, Favey mentioned a vRS Fabia is being discussed for the next generation B-segment hatchback, which is due in 2021. 'We're working on different options including a vRS,' he told Auto Express.