The Jaguar F-type has been spied testing with a brand new face hiding underneath its vinyl wrap. The model has been mostly unchanged since its debut in 2013, barring a few light cosmetic changes, but for 2020 Jaguar will bring together a rather more substantial update headlined by a sleek new face.
Peer beyond the wrap and you'll see new slimline LED headlights that now reside entirely to the side of a familiar grille. Although purely cosmetic, the new headlights will dramatically change the F-type's appearance on the road, hopefully leading to a sleeker and more technical aesthetic.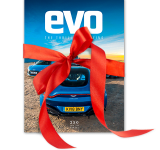 Subscribe to evo magazine
If you're passionate about the world's greatest performance cars, experience the thrill of driving with evo magazine. Try your first 5 issues for £5.
> Jaguar F-type review - Stunning looks and still able to thrill on the road
The body sides and rear appear mostly unchanged, aside from new rear lights that mimic the 'chicane' lighting graphic debuted on the I-Pace and since then the recently updated XE.
We know little else about the changes this heavily revised F-type is due to receive, and although we suspect the interior will undergo an update, it's unlikely to feature JLR's latest twin-screen infotainment system which would require a total redesign of the dashboard architecture.
Rumours of Jaguar's use of BMW V8 engines also have plenty of substance, but it's unknown whether this generation of F-type will feature them, likely requiring a more substantial behind-the-scenes technical and electronic update to accommodate them. The model in these images is likely powered by a four-cylinder powerplant judging by the test car's single rectangular exhaust outlet, although this remains speculation.
An update so long into the current model's life cycle does speak volumes for Jaguar's propensity to break out of the usual seven-year model cycle on low-output models such as the F-type. Although it's a shame not to see an all-new model being prepared, we can at least be thankful this heavily revised model is coming at all. Whether this is enough to tempt buyers from their 991-generation 911s remains to be seen.