'Who wouldn't want Ferrari to build something akin to a slightly scaled-up Alpine A110?'
Meaden feels the big boys should look to bike manufacturers for some 'less is more' inspiration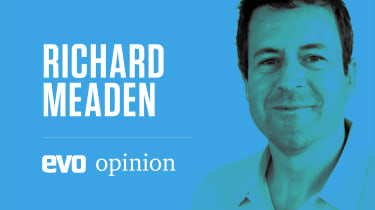 Every now and again I look at motorbikes. Not because I've developed a sudden urge to join the ranks of the original MAMILs – that's Middle Aged Men In Leather, in case you were wondering – but because I've always admired the machines and envied the skill and courage of those who ride or race them well. Why have I never taken the two-wheeled plunge? A dutiful adherence to parental wishes. The distress of visiting one of my best mates in hospital after he'd thrown his bike down the road and himself through a post-and-rail fence. Admitting to myself there was a high likelihood of me doing the same should I buy a bike. All conspired to steer me away from a righteous life on two wheels.
Fortunately I've found you don't have to be a biker to enjoy motorcycles. In the good old days I would educate myself via the pages of Performance Bikes magazine. Nowadays if I have any motorsport screen time tokens left to spend with Mrs M I will supplement F1 and BTCC with MotoGP and maybe some World or British Super Bikes. If that's not an option I'll follow a bike-related link on Twitter and disappear down an internet rabbit hole that inevitably leads to Honda RC30s and Joey Dunlop. It was following one of these two-wheeled threads that I happened upon the new 250cc Kawasaki Ninja ZX-25R. A downsized superbike, it's primarily built to exploit the Indonesian motorcycle market, which is shaped by licence laws that dictate most riders stay below 250cc and results in more than six million sales every year.
Kawasaki has identified that within this vast pool of buyers there are those who are affluent and desire a 'proper' bike, which means four cylinders, superbike styling and technological trinkets such as different power modes, traction control and a quickshifter. No matter that the engine is a literal and metaphorical half-pint.
> Alpine A110 review - style, speed, agility; the French coupe delivers
There were similar market conditions in Japan back in the '80s, which saw a brief proliferation of 250cc screamers that revved to 20,000rpm. Those were freaks, but the Japanese manufacturers have continued to offer 400cc bikes that look like their bigger siblings, but offer scaled-down performance combined with amped-up handling thanks to their low mass and compact size.
Why the sudden interest in downsized motorcycles? Well, I can't help but think the time is ripe for a similar ethos amongst sports car and supercar builders. Yes, I know they're all obsessed with chasing premium luxury brand values and their business plans have chronic dependencies on selling high-price, high-margin models, but can there really be enough high-net people who want to buy all these £200k+ mid-engined supercars we'll see over the next few years? And if there are, will their appetite for repeat purchases be as strong when they've taken an almighty kick in the nuts come trade-in?
We're told there's no market for 'cheap' sports cars and that the future for the big premium/high-performance marques is SUVs. The market reflects this, but it's a self-fulfilling prophecy because there really isn't any alternative for us to consider. Apart, of course, from modern classics from the '80s, '90s and noughties, which are more popular then ever. With collectors, of course, but increasingly amongst those who don't want to go any faster, don't care about downforce or drift modes and don't want to drop a small (or large) fortune on depreciation.
> Ferrari F8 Tributo review – still want that McLaren 720S?
Very rarely has the car industry shaped its offerings around engine capacity. At least not to the extent motorcycle makers have done for decades. That said, there was a time when Ferrari built a 208, which to all intents and purposes was a 308 powered by a special turbocharged 1991cc V8 designed to circumvent an Italian VAT rate of 38 per cent on cars with engines over two litres. Funnily enough it sold very well in its home market.
All of which got me thinking that instead of £1m, 1000bhp hybrid hypercars, wouldn't it be marvellous if major players had the balls to build truly downsized, downpriced sports cars with batteries to boost the performance of their smaller, more efficient petrol engines? But I doubt it'll ever happen. Ferrari offered a glimmer of hope, but snuffed it out with news it has shelved plans for its rumoured V6 Dino. Depressingly, for the financial motives I outlined above. It's a massive shame. Who wouldn't want Ferrari building something akin to a slightly scaled-up Alpine A110? Apart from Ferrari itself, of course.
All the Italian marques have form when it comes to small, perfectly formed exotics. Lamborghini built the Jalpa, Silhouette and Urraco. Maserati made the Merak. Imagine what they and newcomer McLaren could do this time around. I'm not deluded enough to think they would be Lotus Elise affordable, but surely a return to smaller, more modest, yet no less desirable supercars would fit the environmental mood of the moment and demonstrate that fast cars can place acuity before excess?