Sub-T.50 Gordon Murray Automotive Project Two supercar confirmed
Two-seater retains Cosworth V12 and manual gearbox, but loses ground-effect fan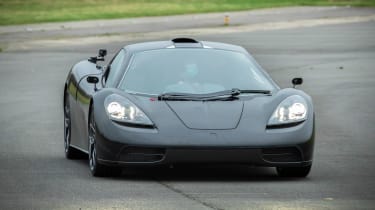 Gordon Murray Automotive (GMA) has confirmed it is developing a second supercar model – one that is set to pack its own V12 engine, a manual transmission and the same lightweight ethos in a completely new model. Where the two will differ is accessibility, with the new two-seater, currently known as Project Two, diverting from the T.50's complex and expensive ground-effect fan and three-seat layout in favour of a simpler aero set-up.
Underpinning the Project Two will be a brand new carbonfibre structure, designed specifically for this new model. The new structure will also give GMA's designers a distinctive proportion set to work from, making this second model entirely different to the T.50.
The Project Two will also feature a V12 engine, likely to again be built by Cosworth, but no specifics have been shared as to its expected specification. Given the Project Two's lower price point, its V12 is expected to be built to a less highly strung unit (641bhp at 11,500rpm is currently being promised for the T.50), and without the 48V electrical system that is required to power the T.50's high-powered fan. 
Production will be capped at most to 100 units, so while the Project Two is not likely to be a McLaren 720S rival, its price might still break into seven figures, likely rivalling low-production supercars such as the Lamborghini Sian or indeed the next mid-engined Ferrari hypercar. The new supercar will likely follow T.50 and T.50S production, making it unlikely to see production until 2023 at the earliest.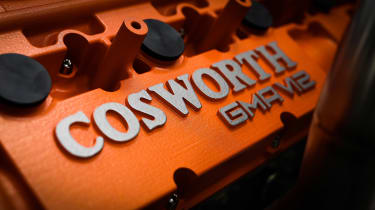 Gordon Murray Electronics
GMA has also announced that it is expanding further into electrification, securing a £300m investment to create a Gordon Murray Electronics subdivision that will specialise in the development of hybrid and all-electric powertrain systems. The first results of this new venture will be applied to a new 'city SUV', due later in the decade. 
GME's development work will include licensable technologies that GMA will combine with its patented iStream manufacturing process, which can help new brands quickly and efficiently enter the automotive market without the need for a ground-up development and recruiting process. 
Regardless of this expansion into new territories, Gordon Murray remains steadfast that all GMA projects should hit the same benchmarks in lightweighting, driver involvement and the efficient, local sourcing of parts and technologies. And before those new electric powertrains arrive, we still have a few V12 manual supercars to look forward to, a derivative GMA has committed to building for as long as it will be allowed to do so.