New Suzuki Swift Sport news and pictures
Official photo and details of the new generation Suzuki Swift Sport diddy hot hatchback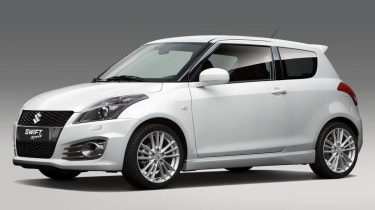 Suzuki is due to unveil an evolution of the Swift Sport at the 2011 Frankfurt International Motor Show in September.  While based on the bigger, new-generation Swift, Suzuki has largely stuck to the winning formula it employed for the first incarnation of its diddy hot hatch. Its 1.6-litre engine now produces 134bhp (up from 123bhp) and 118lb ft of torque (an increase of 10lb ft).  Maximum torque is produced 400rpm lower down the rev range at 4400 rpm, endowing the latest Swift Sport with more usable performance. Peak power is produced at 6900 rpm, only 100 rpm higher than its predecessor. A new 6-speed gearbox has been specially developed to replace the old 5-speed unit. As is de rigueur with new models, emissions and fuel consumption have both improved, though Suzuki has yet to announce specific figures. Suzuki has also refined the handling, claiming to have improved cornering stability thanks to struts with internal rebound springs and a new rear suspension design. The new Swift also features a longer wheelbase, increased by 50mm to 2430 mm, which should endow it increased stability and predictability. The overall length has also increased by 125mm, but height and width decrease by 10mm and 5mm respectively. UK sales are set to start in December 2011, with a small increase over the outgoing Swift Sport's £12,995 price tag likely. Seven airbags and ESP are among the standard equipment list.
Read about evo's Suzuki Swift Sport long termer
Video of our Suzuki Swift Sport long termer
Suzuki Swift Sport battles its hot hatch rivals
Join evo's Twitter, Facebook and YouTube pages
Meet our previous Suzuki Swift Sport long termer...