Toyota Mirai fuel cell car: LA auto show news and pictures
Toyota promises transportation of the future with its Mirai - a £37,000 fuel cell saloon
Toyota used the recent Los Angeles auto show to display the car it believes is a step towards the future of transportation: The fuel-cell powered Toyota Mirai.
It's easy to be sceptical of such claims. After all, when Toyota's first-generation Prius made its UK debut in 2001 the meek, pulse-reducing saloon hardly looked like the future of transportation.
Yet 13 years down the line, three of the fastest-ever supercars feature hybrid power. As does the BMW i8, worthy of inclusion in evo's Car of the Year competition. And Toyota has shifted over 7 million hybrid vehicles worldwide.
Like the original Prius, the Mirai adopts a traditional form – that of a four-door saloon car. Unlike the original Prius its styling is dramatic, Toyota willing to risk a little more this time around with its hybrid technology already well-proven.
The interior is more conventional, with a floating centre console reminiscent of the current generation Prius. A high-level 4.2in display below the windscreen gives feedback on speed and and other driver-relevant features, while a display on the dashboard offers all the usual infotainment features.
Toyota claims all the benefits you'd expect of its Toyota Fuel Cell System. As a method of relaying energy to the road, it's more efficient than an internal combustion engine. It develops no local CO2 or pollutants – the Mirai's only emission is water vapour – and electric power delivers a smooth, seamless drive.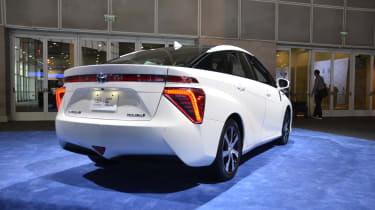 Over electric vehicles, hydrogen also has the benefit of a short refueling time – three minutes for 122.4 litres of storage between two tanks, says Toyota.
There are still question marks over the environmental credentials of hydrogen production. Electrolysis of hydrogen from water, one of the most effective methods, is an incredibly energy-intensive process – though it does have potential when generated using renewable sources.
The Mirai itself is powered by a 114kW fuel cell stack. This delivers enough power to the electric motor for a 113kW output – 152bhp – and 247lb ft of torque developed from rest.
Performance is somewhat hampered by an 1850kg kerb weight, but the Mirai still outsprints its Prius stablemate with a 9.6sec 0-62mph time. More representative of the powertrain's torque is the 3sec 25-44mph sprint, while top speed is limited to 111mph.
The other relevant figure – range – is around 300 miles, though official European figures haven't yet been released.
European pricing hasn't been revealed, but U.S. pricing runs to $57,000 – just under £37,000 before plug-in vehicle incentives. The Mirai should go on sale in the UK, Germany and Denmark in September 2015.