Goodyear Eagle F1 SuperSport review
The Eagle F1 SuperSport range of Ultra Ultra High Performance tyres is taking the trackday market by storm, and we've put it through its paces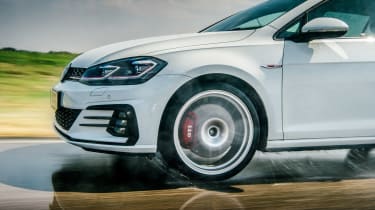 As its name implies, this Goodyear high-performance tyre is inspired by the company's learnings from the world of motorsport, and it's primarily focused on delivering superior grip and handling on dry roads.
Dual Plus technology is a two-part tread compound for wet and dry grip, while specialised shoulder blocks support high performance on dry roads, says Goodyear. High Force construction uses very stiff sidewall material to provide a direct connection from steering wheel to the road, while the tyre's Power Shoulders feature more rubber and less cutaway tread than conventional rivals to maximise contact with the tarmac and thus improve grip in dry corners. A mix of aramid and nylon materials for the tyre cover serve to reduce deformation and improve stability at high speeds.
Size tested: 235/35 ZR19
Test vehicle: VW Golf GTI
Price when tested: £129
Location: Hanover Test Track/MIRA Proving Ground
Tester's notes
We tested the Goodyear Eagle F1 SuperSport alongside the following rival products in the 2020 evo Performance Tyre Test held at Continental's Hanover test track and MIRA in the UK: Michelin Sport Pilot 4; Dunlop Sport Maxx RT 2; Continental SportContact 6; Nokian Powerproof; Pirelli P Zero (PZ4); Vredestein Ultrac Vorti.
In the wet handling tests the Goodyear was second quickest but we ranked it third subjectively as it had good traction and feedback through the steering wheel, but felt delicately balanced, and on tiptoes at the limit. The Goodyear had an impressive wet circle time too.
On braking the Goodyear was third in the wet, fourth in the dry, and its performance on the rolling resistance test was middling.
The F1 SuperSport is optimised for dry handling, and the results of the aquaplane tests were in the lower order.
When it came to dry handling tests the Goodyear tyre didn't quite live up to its billing, but third place is still a decent showing. We really liked the crispness of the steering response, as well as great turn-in and traction, but it lost out on ultimate stability at the limit. It fared less well on the road route, as good steering feedback was spoiled by a tyre that was noisy and tough over many surfaces.
Test results: Goodyear Eagle F1 SuperSport
The full test results for the Goodyear Eagle F1 SuperSport are below...
Test category

Result

% of best rival result

Ranking

Wet handling 

Lap time

Subjective score

46.7sec

55.5pts

98.5

89.5

2nd

5th

Wet circle lap time

12.42sec

99.7

2nd

Wet braking distance

28.0m

92.9

3rd

Dry braking

distance

34.7m

96.8

4th

Rolling resistance coefficient

0.917

90.6

5th

Aquaplaning max speed

71.6kph

96.2

6th

Curved aquaplaning lateral acceleration

2.88m/s2

85.2

5th

Dry handling

Lap time

Subjective

52.50sec

59.0pts

99.3

93.7

3rd

3rd

Road route

22.0pts

88.0

7th

 
 
 
 

Overall

 

93.7

5th