It's an odd proposition, the Astra VXR Nürburgring Edition. On the one hand its name suggests a car methodically, relentlessly honed by unsmiling German engineers on those 13 miles of tortuous asphalt in the Eiffel mountains. Most enthusiasts will recognise the stylised Ring logos on the B-pillars and embossed into the seat backs, and probably also guess why 835 of these limited-edition Astras are being built, reading the number as eight thirty-five.
On the other hand the Nürburgring Edition looks like an '80s throwback with its colour-coded white wheels and chequer decals. And, by golly, you'll hear it coming long before you see it, thanks to its Remus sports back-box. True, the Honda NSX-R was also honed at the Ring and had white wheels, but visually and aurally the Astra seems to align itself more readily with the sort of cars that mooch along our high streets on a Saturday night.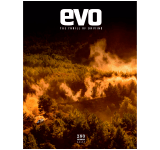 Subscribe to evo magazine
Subscribe today to have every issue of evo delivered straight to you. You'll SAVE 39% on the shop price, and get evo for its original cover price for a whole year!
Still, 8min 35sec is an impressive lap time. Thing is, it doesn't relate to this car but to a lap driven by ex-racer Manuel Reuter at the wheel of an Opel Astra OPC (the German version of the VXR) back in 2005. The lap time was actually 8:35.94 too, so there ought really to be 836 of them. Oh, and Vauxhall isn't shouting about it too much because it is no longer the benchmark time for a fast hatch. On the face of it, then, the Nürburgring Edition has been cooked up to sell a few more VXRs.
The mechanical changes that turn a regular VXR into a VXR Nürburgring are few. The turbocharged in-line four is unchanged and therefore the car is still officially rated at 237bhp. Yet, rather vaguely, Vauxhall says that the new back-box that is 'provided' with each car is worth 'up to 15PS' (14bhp), suggesting a tally of 251bhp is possible when (if) you get it fitted. The suspension, meanwhile, is standard VXR. The only chassis change is the fitment of those new ATS alloys, but they might be more significant than they seem as they increase the track by a couple of millimetres front and rear and, more significantly, are said to be a thumping 3kg lighter per corner.
Dynamically, there is something about this Astra, too, an edge that is lacking in the standard model. Where the ride of the regular VXR can be a little choppy over B-roads, the damping occasionally taking two bites at bumps, the Nürburgring edition feels better planted. It also tacks into turns with more poise, responding keenly and with less roll and less taking up of slack than I recall. Shame the steering is devoid of real feel, then, the fat wheel rim offering little indication of how the new Dunlop Sport Maxx tyres are coping. Traction control keeps things nicely in check without being too nannying, but switch it out (by holding down the 'Sport' button for a few seconds) in search of a little more rear-end mobility and you won't find much at road speeds, but you will lay some impressively long lines on the corner exit as the inside wheel spins up furiously. That can be avoided, but what's inescapable is the attention-grabbing noise of the Nürburgring VXR when equipped with the Remus. Push the start button and the centre-exit exhaust blares loud enough to make you wonder if the silencers have been replaced with a straight pipe, and when it's on-boost and pulling hard it sounds like the throttle is working the slide of a trombone sticking out the back. This is a turbo engine that offers all the effects, too – if you back off at low speed as boost is building the turbo makes a classic, sighing ch-ch-cherrr, while if you hit the limiter or change up briskly, there are crackles and bangs that make it sound like anti-lag is fitted.
If you like to be noticed, and the standard Astra VXR just doesn't do it for you, the Nürburgring Edition most certainly will. You'll have to be quick, though, because according to Vauxhall three-quarters of the 835 cars are already sold, even though at £21,295 they cost £1575 more than the standard one. I wonder if it's the kudos of the Nürburgring name or that the '80s are now cool again…
Specifications