Attempting to set a lap time in a Ferrari press vehicle is the stuff of legend. There was a time when you'd get an articulated lorry full of engineers, laptops and assorted tyres, and an oppressive weight of expectation resting on your shoulders after several days' testing and a target time set by one of Ferrari's in-house hot-shoes.
These days it's a bit different. You still get a few engineers and testers, but they smile a lot more than they used to, and the car is delivered in a modest lorry. You get a few sets of tyres to play with, too, but that's as much a reflection of the need to cremate at least one set in the pursuit of 'views'. Nevertheless, the pressure is on. Not least because the challenge of firing a 661bhp supercar as fast as you can make it go around Anglesey's dramatic Coastal circuit is one of the more serious parts of an otherwise silly job.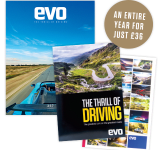 Subscribe to evo magazine
evo is 21 and to celebrate, we're returning to 1998 prices! Subscribe now to SAVE 39% on the shop price and get evo for its original cover price of £3.00 an issue, plus get a FREE gift worth £25!
We start on a set of part-worn tyres to get dialled into the track, and then get the gratuitous video footage. The more sophisticated cars get, the more choice you have on traction and stability aids, but even though the 488 GTB's Side Slip Control 2 lets you hang the tail out on the power, there are moments where you feel it's not quite letting the car wring the most from tyres and drivetrain. 'CT off' it is, then.
Besides, if it was all down to computers, there'd be no point in testing. We'd just get Ferrari to do some kind of simulation and publish the resulting lap time. Of course, these evo Leaderboard tests focus on lap time, but it's the manner in which the time is delivered that's as fascinating as the raw figures achieved. Driving without aids enables us to peel back that final layer to reveal a clear picture of a car's on- and over-the-limit behaviour. Putting a stopwatch on our efforts adds focus and gives us hard facts to support – or confound –  the subjective elements.
> McLaren 675LT video review - Lighter, faster, focused and more fun
Going for a lap time in a car like the 488 is as close to a qualifying lap as you can get. Your hands prickle with perspiration, your mouth dries and your heart beats more insistently in your chest. You feel the pressure because much like in a race car, and just like in a 675LT or any upper-tier supercar, you have to nail the best lap you can straight out of the blocks, as the tyres will only give their absolute best for the first lap or two.
The 488's engine might not be the naturally aspirated banshee of the 458 Speciale, but it has unbelievably good throttle response and a beautifully measured delivery. I can't think of another turbocharged engine that allows you to be so precise when you're just squeezing the rear tyres to the point where they begin to run out of traction.
The front end is sensational – never a hint of understeer, super-agile, yet not so jumpy that the rear can't keep up. Consequently you have huge confidence with your first steering input and every chance of placing the car with millimetre precision. It's so intuitive that once you become at one with the machine, it's as though the car is controlled by your eyes: look to the apex and the car goes there.
Braking and turn-in speeds are critical. Stamp on the middle pedal without feeling or finesse and such is its effectiveness you'll more than likely overbrake the car. Then you try to compensate by getting on the power too early or too greedily, which will lead to lots of oversteer. Better to take a breath, relax your grip on the steering wheel just a fraction and let yourself feel the car. Turns 1 and 3 reward smoothly melding the point where you release the brake and pick up the throttle, the 488 dancing delicately along the edges of longitudinal and lateral grip with the need for only small inputs of corrective lock.
> Praga R1R video review - as extreme as road cars get?
The trickiest part of the lap is the quick approach and uphill compression that leads to Rocket – a super-tight left-hander with a really tricky braking area that transitions from a helpful gradient to a hellishly difficult plateau. The crazy thing is that the 488 smashes through the right kink and compression with the most momentary of lifts, but you're carrying so much speed up the hill that you can't get the car stopped. Better to give a little on the way in, make a more emphatic braking effort, bat down the gears (god, the 'box is good!) and get the nose tucked into the kerb on the left before taking the fiddly right-hand hairpin.
If quick corners are characterised by the nailed-down nose and immaculate balance, and tight corners defined by the need to spot your braking and be disciplined with early applications of throttle, then medium-speed corners are all about keeping the tail in check as you turn in. It's here the 488's agility comes closest to upsetting its composure. Dither and the tail will start to slide, but get on the gas too soon and you'll also invoke oversteer. The trick is to be calm on turn-in and collect the throttle early – just enough to settle the car and get the diff working its magic. Then you can use the lag-free response and bottomless well of progressive torque to propel you through the corner in one subtle, unbroken slide. It's a fabulous sensation – all about speed and drive and nothing to do with showboating.
After four flyers and a cool-down lap, I head back to the pits and scroll down the VBOX display. It felt like there was a good lap in there – committed, but with the requisite control to make it count. Those ephemeral few tenths on fresh rubber are clear to see – the best lap is the first clean flyer – but the subsequent laps, though a little slower, are consistent. The Ferrari boys seem happy, too. Job done.
What was the 488's best? A very, very impressive 1:12.8. I send a text to Jethro Bovingdon, driver for our McLaren 675LT lap this month, to see what time it did. His reply? '1:12.8.' To give some perspective, that's Ferrari's series-production 488 matching McLaren's limited-run, ultra-aggressive, track-optimised special. When it comes, the lighter, sharper, more powerful and more downforce-rich 488 Speciale will be mind-boggling.