Volkswagen Golf GTI Mk1 grille stripe - Art of Speed
The Volkswagen Golf GTI's development process might have been unconventional, but its formula is still used almost half a century on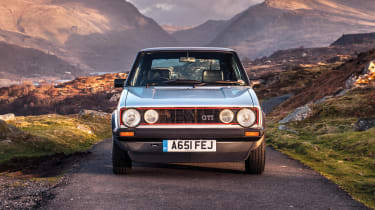 The mk1 Volkswagen Golf GTI was far from the immaculate concept it may have seemed at its 1975 Frankfurt show debut. A 'hot' version of the Giugiaro-penned front-drive replacement for the 35-year-old Beetle simply hadn't figured in the plans for a car introduced to answer public anxieties stirred up by the oil crisis. But two VW employees in Wolfsburg had other ideas.
A young engineer named Alfons Löwenberg and the company's then PR director, Anton Konrad, were convinced there was more to the Golf than family-friendly, post-Beetle practicality and pitched their idea for a 'Sport Golf' to the board. It was given short shrift and rejected. Undeterred, the pair developed the idea in their own time, building a parts-bin prototype using a Scirocco chassis with seriously stiffened suspension and a 1.6-litre engine breathing through twin Weber carburettors. If anything, the senior suits were even less impressed.
> Volkswagen Golf GTI review – is the hot hatch stalwart still the one to beat?
But it created a buzz that caught the attention of other VW employees. The enterprise went further underground and effectively became a skunkworks project – arguably the most clandestine ever as a number of heavy hitters from key departments became involved, participating under the management radar. Hard to believe, but apparently true, the car that would become the Golf GTI took shape at a secret meeting fuelled by coffee and a cake baked by Konrad's wife.
By late 1974 the project had gained an almost unstoppable momentum and only the cosmetic details needed to be resolved before it would finally be given the green light. That the neat chin spoiler, black plastic wheelarches, twin black side stripes, tartan seat fabric and dimpled golf ball gearknob would essentially codify an aesthetic approach for all subsequent hot hatches was unknowable at the time. But the one signifier that defined the faster Golf's look most effectively and would go on to become the GTI's signature cosmetic feature was also the simplest: the thin Mars Red trim stripe framing the car's black radiator grille. It was the black/red colour combination that was seen as being thematically sporty as much as the notion of a pinstripe accent in itself.
Although Gunhild Liljequist, VW's trim designer from 1965 to 1992, is credited with the adoption of the golf ball gearknob and the tartan seat fabric, the red stripe seems to have emerged from the team's collective consciousness. Whatever else has happened to the Golf GTI in the ensuing 39 years, the red stripe remains to this day.