2019 Volvo V60 review - is the new V60 estate the best of its kind? - Interior and tech
Volvo's latest V60 is a brilliant estate car, but rather less entertaining to drive than it could be
The Volvo V60 follows its siblings with a clean and sophisticated interior. The dash design is based around the same portrait-layout touchscreen display. Although this same basic Sensus system has been in use since the XC90's introduction in 2015, it's matured well, and after a small amount of acclimatisation is clear, quick and easy to use.
The basic interior design is also shared with the smaller XC60, which is no bad thing, as it's not only extremely solid and well designed, but also constructed with high-quality materials. If there is one disappointing element it might be the hard-touch plastics found on the centre console, but this is nitpicking in an interior easily clear of most rivals.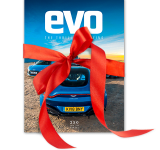 Subscribe to evo magazine
If you're passionate about the world's greatest performance cars, experience the thrill of driving with evo magazine. Try your first 5 issues for £5.
Space is on par with rivals too, and typically, the boring stuff like safety and seat comfort are all excellent. Tick the right option boxes and the V60 will expand on its active safety to level three autonomy, with a well judged and confidence-inspiring combination of lane-keep assist and active cruise control. If you're into that sort of thing.