How to sell your car
We take a look at the various avenues you can explore when selling your car.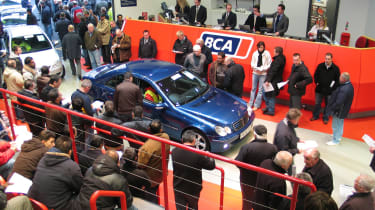 When the time comes to part with your pride and joy, what should be a straightforward process can sometimes turn into a time-consuming nightmare, often with expensive consequences. So what route should you take? 
Part-exchange
Perhaps the easiest course of action is to part-exchange your vehicle with the trader or the dealership you're buying your new car from. This will probably realise the least amount of money for your car, bar letting it go to an internet car-buying agency, but it requires nothing more than turning up on the forecourt and letting the salesman look it over. What the salesman offers will be governed by the 'trade' value for the car, usually influenced by what the industry price guides are 'booking' the car at that month, but in many cases it will also be 'underwritten' by another dealer who will undertake to buy your car for the purposes of retail.
Trevor Fussey is Managing Director of Stratstone (stratstone.com), with a portfolio of franchises that includes Aston Martin, BMW, Ferrari, Harley-Davidson, Jaguar, Land Rover, Mercedes-Benz, MINI, Porsche and Rolls-Royce. He says: 'A large percentage of our used car stock comes from customers' part exchanges. All valuations are completed using an electronic appraisal form and we also have a dedicated team at central operations to ensure we're offering competitive part-exchange quotes.'
'When presenting your car for appraisal, I'd recommend ensuring it's clean, includes any extras such as spare keys and Sat Nav, and where possible, has a good service history with documentation. We look to see if the car is a true reflection of its age and mileage – it goes without saying, the better it's been looked after, the more money it will be worth when you part-exchange.'
> Click here for our best used cars with naturally aspirated engines
Given the margin that dealers will want to make, it's not surprising that this isn't the way to get the best price for your car. That's not just down to the dealer making profit, it's also prep costs. For example, a used Porsche being retailed through the dealer network has to have paint chips resprayed, the same brand of tyre all round, a geometry check and a full Porsche history to be eligible.
Sale-or-return
Another option is to engage a specialist dealer to sell your car on a sale-or-return basis (SOR). This way you retain ownership of your car until it's sold, but for a fee can let someone else worry about the marketing and actual sale of the car. Lucas Hutchings runs the Image Automotive group of companies, including the Octane Collection and Millennium Heroes. 'As a vendor you'll get more money for your car with SOR than by selling it straight to a dealer,' says Hutchings, 'because if the dealer is putting their own money into the car, they'll want a bigger return on their investment.' SOR certainly has its positives (see 'Expert View'), taking away the hassle of selling your car while still realising a decent value.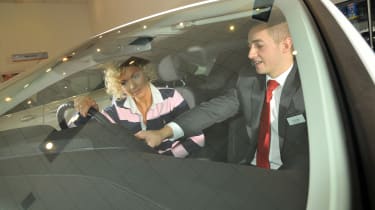 Auction
A further option that has gained  in popularity is the auction. Will Daniels is the modern classics consultant at Brightwells (brightwells.com) and is clear on the advantages: 'Auctions mean not having to deal with time-wasters, no worries about security at home, it's often cheaper than SOR, the reserve offers some protection, there's always the chance it will go over list, and there's no comeback and no haggling. Fees can be small; we charge £60 for our modern-classic auctions and £180 for our classic and vintage auctions, with a vendor commission of 5 per cent. Of course, there is always the chance it won't sell, but this is usually down to the vendor wanting too much money. On price guides, it's important to project an appealing estimate to get buyers excited and feel they might be able to afford the car. Values are somewhere between trade and retail, but sometimes cars can go for more.'
Private Sale
Finally, you could always go it alone and sell privately. Matthew Hayward is editor of evo's sister-site classicandperformancecar.com and has this advice: 'The best adverts have strong images – it's worth spending the time to clean and then get good photos of your car, to show it in its best light. A good description is also important, with all the information you would want to see if you were the buyer, i.e. model year, spec and options fitted. Nevertheless, don't waffle on – buyers usually know about the car they're trying to buy and don't need you to copy and paste Wikipedia.'
Opinion – The specialist – Matt Hayward
'If you're selling privately, use common sense when someone comes to view your car. Don't let your keys go unless you're 100 per cent happy and have proof of insurance. With payment, a bank transfer is the safest thing to do as long as you're certain that the funds have cleared. If you're at all worried, talk to your bank first.'
> Click here to see the ten most expensive cars sold at auction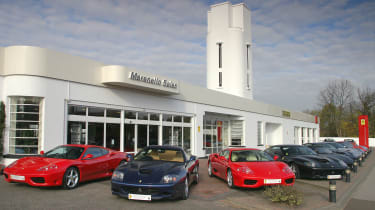 Expert view – Lucas Hutchings
'Sale or return allows you to try a higher price, but if you're after a quick sale you can always go with the market value. There have, of course, been some unfortunate tales with SOR. Dodgy dealers that sell the car, go bankrupt, and then the liquidator comes in and neither the buyer nor vendor see the car or their money again. Pick a reasonably large dealer that has a good reputation. You need to trust them. There are some dealers out there that will say anything. We always say, "Come down and meet us, see how we work."
'Fees for SOR can vary between £500 and £5000 in the industry, but what you're actually getting for your money will vary a lot. We say you should expect great marketing, someone always answering the phone for enquires, great photography, global reach – overseas buyers require even more photos and reassurance. It's all about the level of service. We put our cars through two days of detailing first, for example. If someone is giving me a car to sell, I should be working for them to get the best price.
'Avoid dealers that apply pressure to sell for less money so they can simply get their fee. Ultimately, I say to clients that SOR will allow them to get the same sort of money, or slightly more, than if they sell privately, but without all the hassle.'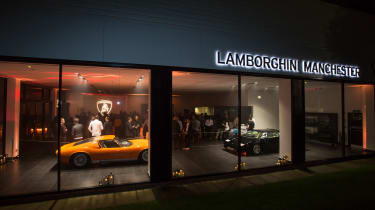 Summary
Selling your car can be a complex procedure, and your chosen method will depend partly on the value of your car and also on how much time and effort you're prepared to put into the process. For cars with a low value, there will always be the appeal of selling privately, and this can realise a good price. In fact, it can be an enjoyable process, meeting a fellow enthusiast who becomes a friend for years to come – for all the dodgy people out there, there are also lots of genuine enthusiasts who want to buy a decent car, just as you did when you acquired the car you're now selling.
If you don't fancy the private route, the sale-or-return option can work well as long as you have faith in the company you've chosen to undertake the sale on your behalf. They may be doing the legwork to sell your car, but you should be kept informed, and not feel pressurised into selling your car for less than you originally wanted without fair reasoning.
Moreover, whether it's SOR, or an auction sale or simply a part-ex deal, the old adage of spending to accumulate holds true for car sales: investing in putting right minor defects, or even just getting the car looking as nice as possible with a thorough detail, will probably pay you back much more than you spent when it comes to the bottom line.