Caterham C120 – Dead on arrival
A lack of funding may have killed Caterham's dream of a new sports car, but its tie-up with Renault did help spawn the brilliant Alpine A110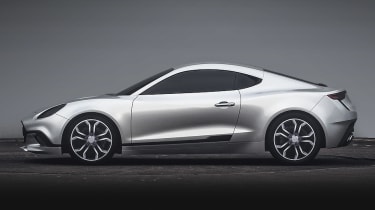 In 2012, Caterham boss Tony Fernandes brokered a deal to work with Renault on a small, lightweight sports car. 'If you look at Formula 1, there's only Ferrari and McLaren, which are extremely expensive,' he said, teetering on the brink of hubris. 'We'll produce a car that many more people can afford with F1 technology.'
As if to prove that he wasn't talking out of his branded hat, or simply planning to slap his company's badges on someone else's homework, Fernandes agreed that Caterham would raise half of the €150million (£120million) project cost, buying it an equal say on everything involved in its genesis. The 50/50 deal also meant that half of the 6000 cars planned to come from Renault Sport's Dieppe factory every year would be Caterhams. The sports car project was also intended to be the opening act in a bigger plan to create a range of Caterhams from Renault base platforms such as the Clio RS or, less promisingly, the Captur SUV.
> The Alpine Ravage is a one-off rally-inspired A110
All told, this was a big move for a little British company and Caterham gave it the gravity it deserved, turning its old F1 base near Norwich into a road car engineering centre with over 100 staff, many of whom would spend their time shuttling back and forth to France as the lightweight sports car progressed. The intention was for Anglo-French models to share 85 per cent commonality, bringing parts-sharing prudence while allowing Caterham the leeway to pursue its own suspension and stability control settings, to install a mechanical rather than electrically operated handbrake and, most promisingly, to entertain the possibility of offering a manual gearbox in future despite Renault's preference for paddleshift only.
The Caterham's styling was overseen by a team from Surrey-based design consultancy Drive, embedded in Renault's Parisian studio. As with the engineering, getting the appearance of both cars right demanded a careful balance between prudent commonality and desirable individuality. Important and expensively tooled items such as lights, glass, mirrors and door handles could be shared, but the Caterham's aluminium skin was unique, blending little reminders of the Seven – gaping front air intake, sill trims inspired by side-exit exhausts – into a modern whole that looked wedgier and less retro than the taper-tailed Renault.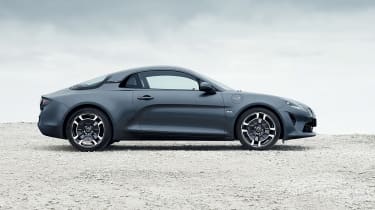 All went swimmingly until 2014, when expensive tooling had to be ordered for the project to progress as planned, and this, sadly, is where it all came apart. At the start of the deal Caterham agreed to find a total of €75million, but its fundraising had stalled at €20million and it simply didn't have the cash to stay in the game. Renault agreed to pay for the work its partner had completed so far and carry on alone, while Caterham was left with little option but to disband its road car engineering team and kill off the C120, leaving just a pair of redundant styling models, one of which can be seen at its Crawley showroom.
On the plus side, Renault's continuing work on the lightweight sports car project led to the superb Alpine A110 we know today, a car that almost certainly wouldn't exist without Caterham's early involvement to get the project off the ground. Better yet, without the obligation to supply 3000 Caterhams a year, the Dieppe factory has been able to make more Alpines to ease the waiting list across Europe. So if you've ordered an A110 and it's turned up earlier than expected, you can say thanks to the stillborn Caterham C120.