Hot Renault Clios never used to get me going. I'd pored over car magazines and books for years, but from Williams to 197, via cute 172 and madcap V6, I was always left cold.
And then I drove a 200 Cup. It was spring 2009, when the first press car came to Evo Towers for a few days. I drove it home one night and within ten minutes I had fallen for it, hard.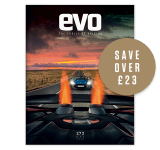 Subscribe to evo magazine
Subscribe today to have every issue of evo delivered straight to you. You'll SAVE 39% on the shop price, and get evo for its original cover price for a whole year!
When murmurings of a Clio joining the Fast Fleet began, I harassed all who would listen to make sure it would become mine. The pestering paid off, and after spending the last 12 months in my Racing Blue long-termer, I'm sure as hell glad it did.
HK09 DHV was, to coin forum-speak, a Full Fat Cup: a standard Renaultsport Clio 200 with the Cup chassis added as a £400 option. Compared with a basic, Semi-Skimmed Cup, it boasted climate control, cruise control, Isofix mountings, keyless entry and plusher dashboard materials, but it was heavier (1240kg v 1204kg). We also specced the Recaro seats (£850), taking the total price at the time to a round £18,000. (Introduction to the Clio here).
The purity of a utilitarian-spec Cup is appealing, but the additional luxury of our car made it a properly capable all-rounder. It had a pretty hard life, too, taking in six trackdays, five evo group tests and three trips abroad, so a hefty chunk of its mileage was on motorways, where a finely tuned cabin temperature and the ability to rest your right foot are welcome. And despite its firmer chassis, the 200 was a thoroughly accomplished cruiser, 80mph equating to 3800rpm – the middle of the rev range.
Perhaps its greatest trip was its visit to the Isle of Skye for evo Car of the Year 2009 (issue 138). It took a number of scalps that week, knocking back a Ferrari and an Aston Martin to claim a place in the top five. More importantly, it beat the Ford Focus RS, establishing itself as our favourite current hot hatchback. (Full eCoty 2009 test here).
The trip I enjoyed the most, however, was May's pilgrimage to Spa-Francorchamps for a Renaultsport trackday – surely one of my best days at 'work' ever. Admittedly, Spa suits cars more potent than a 197bhp Clio, but it proved to be a brilliant learning tool on one of the world's trickiest circuits. And it was far handier than the nervously driven Clio V6s and Alpine A610s I overtook… (Full Spa trackday report here).
Trackdays were one of the Clio's real fortes, and having ticked off a number of UK circuits too, I'd highly recommend the 200 to both beginners and experienced track-goers alike. It's safe to say I fall into the former camp, my first ever circuit experience being when the Clio and I visited Oulton Park last November, but I'm now a complete addict, and I believe the Clio is partly responsible.
Its forgiving nature and the ease of its mid-corner adjustability meant I could learn the tricks of trackdays quickly and comfortably. The ESP system was well judged, so leaving it on for my first couple of sessions at a new circuit barely hindered things, while turning it off livened the car up and had me feeling a true part of what was happening, a sensation missing from several of the Clio's contemporaries. Brake fade and tyre wear weren't too evident, and with four corners of pads and tyres totalling £726, the resulting costs weren't too bad, either.
The 200 wasn't only a hoot on track, though. Few cars in the evo car park could provide such satisfying spur-of-the-moment B-road blasts, the combination of a rev-happy naturally aspirated 2-litre engine, sharp steering and gearchange, superb grip levels and a small, easy-to-place footprint made it the office weapon of choice for 'just going out for a drive'.
While the sharper Cup chassis no doubt helped here, a comparison with a standard 200 (evo 149) revealed that both cars shared similar traits, although the on-limit interaction of the Cup was ultimately my preference. That said, with the softer set-up the Clio is more controlled on really rutted roads and easily my recommendation if you've a lot of town driving to do or a family to transport. But whichever spec is your choice, add those Recaro seats – they're cool, comfortable and compact enough to be practical, too. (Cup v Non-Cup test here).
On the subject of practicality, keyless go quickly shifted from a gimmick to a reliance, while four people were often transported with ease and the Clio ably helped me move house, too. The 28.9mpg average was some way off Renault's 34.4mpg claim, though a gentler right foot could have closed the gap. That would have been missing the point, though…
Life with the Clio wasn't all plain sailing. Its build quality erred towards French stereotypes, with rattles and an ill-fitting glovebox. Driving in traffic wasn't much fun, either, the torque-lite power delivery seeing you frequently shuffling up and down gears while operating a fairly heavy clutch.
Perhaps the biggest bugbear seems to be a common flaw. Our car required three wheel alignment corrections (thank you, Tyres Northampton), the first tracking issue appearing after just 100 miles. It seems Britain's less-than-perfect roads are too much for the suspension to shrug off, and a slight pull to the left was present most of the time the car was with us. I had a number of emails from fellow Cup drivers reporting the same problem, while similar complaints can be found on any Renaultsport forum you care to visit. Renault says it isn't aware of any issue, nor if standard cars are affected as well.
The pull was slight enough for me to tolerate, though, and didn't take the shine off running the 200. Its big mileage was testament to its multiple, addictive talents. It provided a refreshingly old-school experience, so while the absence of an eco-friendly turbocharged engine might have put it in a high tax bracket, the Clio nearly always won Friday-night battles with newer, flashier press cars to be my wheels for the weekend.
The Clio 200 still possesses the basic, driver-focused DNA of its forebears, and having now driven them all during our 'Happy Birthday Clio!' test (issue 146), it's safe to say I'm truly won over by Renault's hot hatch. The Williams, 172, Trophy and V6 are all cars that had failed to tickle my interest before, but alongside the 200, I'd now happily own them all. And I'm now partway there. Read about my newly acquired Renault Clio Williams here...
Running Costs
| | |
| --- | --- |
| Date acquired | September 2009 |
| Total mileage | 24,501 |
| Duration of test | 12 months |
| Average MPG | 28.9mpg |
| Servicing costs | £1456.52 (service, brakes, tyres, oil, wheel alignments, trackday insurance) |
| Price new | £18,000 |
| Trade in value | £12,995 |
| Depreciation | £5005 |
| Mileage this month | 2696 |
| MPG this month | 26.9mpg |