Aston Martin One-77 at Geneva
Aston Martin's hi-tech hypercar edges close to production reality at Geneva
Aston Martin's One-77 hypercar is now much closer to reality. After months of teasing information and pictures, the car has been revealed in full and chassis number 01 is on display at the Geneva motor show.
The display itself is split between two cars – a model of the production car's exterior, as well as an open display of some of the One-77s mechanicals. Aston has also revealed a couple of production car shots.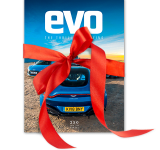 Subscribe to evo magazine
If you're passionate about the world's greatest performance cars, experience the thrill of driving with evo magazine. Try your first 5 issues for £5.
The £1million+ One-77 looks set to be a bit of a technological marvel, too. Its structural core is a lightweight yet tough carbonfibre monocoque, visible on the first chassis (pictured), while racing technology is filtered down to the car in the shape of inboard suspension. Double wishbones at each corner are combined with pushrods that transfer vertical suspension movements to horizontally mounted spring/damper units, resulting in reduced unsprung weight and neater packaging of the suspension.
There are also fully adjustable dampers which feature advanced Dynamic Suspension Spool Valve (DSSV) technology. It's a world-first on a road car, and allows the One-77's shock-absorbing characteristics to be tweaked without parts being removed from the car. Aston's engineers will also develop each individual One-77's suspension to suit its owner, the bespoke and exclusive nature of the car allowing you to set up anything from a long distance cruiser to a Nordschleife demolisher, apparently.
Performance should be pretty scorching too, with a target weight of 1500kg mated to a rather potent 7.3-litre V12. Final figures haven't been disclosed but 700bhp+, 200mph+ and 3.5sec to 60mph are on the cards.
Also on Aston Martin's Geneva stand is the DBS Volante and the production version of the V12 Vantage. Read more about the Geneva motor show and its highlights here.
Visit/aston-martin/22301/am-rb-003-concept-from-geneva-to-be-named-aston-martin-valhalla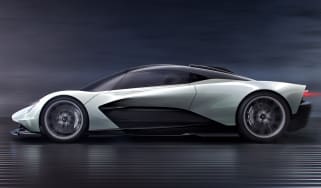 Visit/aston-martin/21621/we-ve-been-expecting-you-james-bond-inspired-aston-martin-db5-continuation-nears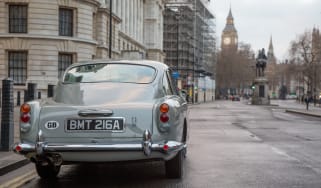 James Bond-inspired Aston Martin DB5 continuation nears prod