A bit taken aback. I think that's the best way to describe how I feel after the first few hundred miles with the DBS. Almost a month in and the big Aston has already surpassed my expectations, but it has also kept me on my toes for longer than I'd care to admit. More on that later. But first, why a DBS?
Well, it all started a few months back when the James Bond phenomenon was in full flight. The arrival of Quantum of Solace in the cinemas led to a flood of enquiries to the supercar driving experience company I co-run, all asking if we had a DBS on the fleet. We hadn't, but after doing our homework we decided it would be just about feasible for us to get an Aston like Bond's – if we could locate one at a sensible price.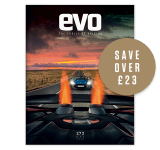 Subscribe to evo magazine
Subscribe today to have every issue of evo delivered straight to you. You'll SAVE 39% on the shop price, and get evo for its original cover price for a whole year!
The last 12 months have been very tough for supercar owners, yours truly included. For me at least, it's not just the depreciation, either; given the current gloomy situation I can't help feeling a touch uncomfortable out on the road in such desirable but also highly conspicuous machinery. Of course, there is another side to the story. If you are looking to buy into heavy metal, the prices have never been better, so it didn't take long for us to locate a 2008 DBS through the broker network. Storm Black, black leather and less than 5000 miles on the clock. Oh, and about £40K below list.
I should probably admit that, until recently, the legendary supercars from Gaydon have provoked curiosity rather than admiration from me. Somehow they've never really made my heart miss a beat like, say, a Quattroporte or a 599. But the V8 Vantage started to change that. It is, after all, undoubtedly pleasing to the eye. Same goes for the DB9. And the DBS? Well, I hadn't laid eyes on one in the metal before and on first impressions it is as stunningly good looking as it is huge. The elegant rear end catches the eye with its one-colour LED light units and carbonfibre diffuser, but that gargantuan composite bonnet makes manoeuvring the car tricky, even with the handy parking sensors.
Inside, the airy cockpit is spacious and the view through the narrow windscreen isn't too bad compared to some of the DBS's rivals. I love the firm, supportive sports seats and the way the fly-off handbrake works perfectly (unlike those on many Italian supercars). I'm not so keen on the strangely tiny sun visors, which in day-to-day driving don't measure up to the job, and the rear seats are, of course, not rear seats at all but useful extra storage space (which is handy, because the boot would struggle to hold the girlfriend's make-up bag). I've also yet to get to grips with the myriad of confusing switches and knobs on the centre console, but, that said, like most members of the male species I rarely read instruction manuals – then still complain when things don't work!
Perhaps that's why the Aston's quirky 'Emotional Control Unit' had me briefly flummoxed too. This crystal block slots into a rectangular hole near the top of the dash and pulses red when the engine is ready to start. It then needs an extra push, holding it in briefly, to bring the DBS's 6-litre V12 to life. Surprisingly, this mighty engine is quite quiet when you're inside the car, but outside? Put it this way, its 510bhp has heads turning 50 metres before it arrives. And the attention? I reckon a good benchmark is whether one can spot pedestrians on a zebra crossing step back onto the kerb, and I'm pleased to report that when the menacing two-metre-wide DBS rumbles into view the aforementioned pedestrians go rapidly into reverse.
It's no secret that I have a habit of embarrassing myself in fuel stations with supercars, and it looks like it's going to be business as usual with the DBS. However, on this occasion I'm going to point the finger of blame at the car rather than me. Upon attempting to give 50 FDX its first proper feed, I spent a full ten minutes trying to locate the button to open the filler flap. I didn't think to look under the dash, of course, (or in the instruction manual for that matter!) but for the life of me I still can't think why it's located in such a ridiculous position. My mood wasn't helped by me then managing to get the pump's nozzle stuck in the Aston's filler neck, meaning I spent another five minutes trying to yank it free…
So what's the DBS like to drive? In a nutshell, a bit frightening. It's a heavy bus, but the steering is spot on, communicative and not over-light; the ceramic brakes are perfectly weighted and reel in the car's 1700kg with ease; and while the clutch is a little woolly and the gearshift notchy, changing cogs feels positive. So what's the problem? Well, if you dare to give the aluminium loud pedal a firm prod in the lower gears the car's rear end steps out instantly, lighting up the expensive 295/30 Pirellis in a flash. Call me a wuss, but coming from the tractable, four-wheel-drive LP640, that's not something I'm used to in. On damp winter roads, the DBS doesn't inspire much confidence and I'm finding it hard to shake off the feeling that just a touch too much throttle will have this big Aston biting back very hard indeed.
That said, the gorgeous DBS has so much character it's impossible not to warm to it. I'm looking forward to driving it more on road and track, and seeing how it copes with the busy life I've got planned for it.
Find used Aston Martin DBS' for sale on the Classic and Performance Car site here.
Running Costs
| | |
| --- | --- |
| Date acquired | January 2009 |
| Total mileage | 5542 |
| Average MPG | 30.5mpg |
| Mileage this month | 993 |
| MPG this month | 13.8 |