Aston Martin Vantage GT3 teaser video and picture
Aston Martin has teased its forthcoming road-going Vantage GT3 racer with a video ahead of its Geneva motor show debut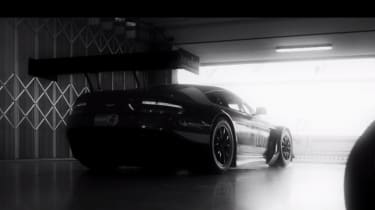 Aston Martin is to unveil a road-going version of its Vantage GT3 racing car at the 2015 Geneva motor show. To whet our appetites for its tamed track car, AM has released a video (above) and teaser image (below). It promises this will be 'the most extreme Vantage to date.'
Aston has remained tight lipped about technical details, but it looks certain that the road racer will use the same V12 as the race car. In that, it generates over 600bhp and around 516lb ft of torque, compared to the V12 Vantage S' 565bhp and 457lb ft. Expect performance to sit between the two in the road going GT3.
>Read - Full details of new GT3 Aston Martin
If the race car's transmission is also used, power will be sent to the rear-axle through a close ratio six-speed 'box with steering wheel paddles and a limited-slip mechanical diff. From what we've seen from spy shots during Nürburgring testing, the car will sit lower on a wider track with lightweight 18-inch wheels.
Given the performance figures and the car's likely light kerb weight (the race car weighs just 1250kg dry), the 0-60mph dash could take little more than 3sec (the road V12 Vantage S takes 3.7).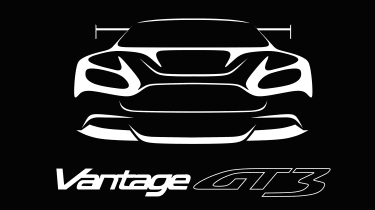 Tech features borrowed from the race car should include a race-bred traction control and ABS system, as well as feel-some hydraulic power steering (a highlight in the Vantage N430) and beefy six-pot front brake calipers. If Aston is to really push the boat out with the GT3 name-tag, the car could also wear an aluminium roof and carbonfibre body panels.
The silhouette teaser image and grainy video at least confirm the Vantage GT3 will benefit from an exterior based on the race car's aggressive body, the most noticeable feature of which being a large fixed rear wing. This should bring downforce into the equation if the car ventures onto track, and will no doubt do a good job of letting those around know this is no boggo Aston.
We expect the Vantage GT3 to feature a stripped out interior with rafts of Alcantara and bucket style seats. Could AM go so far as fitting a rear roll cage, like Porsche does with its 911 GT3? Given that the British carmaker claims the GT3 will be 'as at home on the track as it is on the road,' it's certainly not out of the equation.
Strictly limited in production to around 100 examples, the Aston Martin Vantage GT3 will be unveiled at the 2015 Geneva motor show in March. We'll be there with our cameras and notepads to report back to you when it is.