Audi prologue concept: LA auto show news and pictures
Audi has revealed its prologue concept in LA to demonstrate its future design language and technology
Audi has shown its prologue concept car at the LA auto show. Revealing inspiration for the carmaker's future design language, the angular concept could preview a future coupé model to rival Mercedes' S-Class Coupe and Bentley's Continental GT.
Up front in the concept is a twin-turbo 4-litre TFSI V8, producing 596bhp and 516lb ft of torque in normal mode, with an added 37lb ft available in 'overboost' mode. Power is sent through an eight-speed tiptronic 'box, to enable the quattro all-wheel drive concept to accelerate from 0-62mph in 3.7sec. For reference, that's two tenths quicker than theoretical rival, the Mercedes S63 AMG Coupe.
Combined with this sports car performance is a CO2 output of 199g/km of CO2 and 27mpg average fuel economy. These relatively impressive figures are achievable thanks to a tech that Audi promises will make its way into its road cars very soon: a 48-volt electric system that is powered in part by an electric motor.
This tech means the concept is labelled by Audi as a 'mild hybrid.' Up to 12kW of energy can be recovered into the system during braking too. 
The car receives adaptive air suspension and four-wheel steering, both combining to help mask the car's hefty 1980kg kerb weight. 20-inch brakes and six-piston callipers ensure massive stopping power too.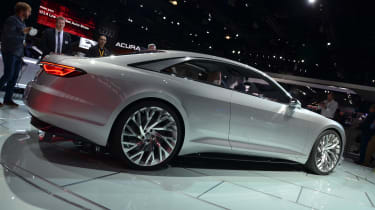 The prologue concept is a design concept as much as a technology demonstrator, so we'd be unwise to ignore its looks. The prologue gets a striking exterior, featuring a swooping bonnet and roofline, wide arches – reminiscent of the Quattro, of course – narrow headlights and a taut tail. This creates a futuristic yet still undoubtably Audi exterior. The side profile looks angry, with the car squatting on 22-inch wheels and snarling its nose forwards.
Design details include a front 'singleframe' stretched across the snout, on which the four rings emblem is mounted. A wider mouthed grille surrounds it, sitting lower than current Audis to create that snarling look.
The headlights, which bleed out from the singleframe, feature high-res Matrix lasers, and feed back into arch lines that give the car its broad shoulders.
So broad are they, that the prologue concept Audi is 5cm shy of 2 metres wide, making it wider than the current A8. It's shorter than the A8 by 3cm however, helping to create that taught profile.
Inside the Audi gets a similar mix of future design and trademark Audi. The carmaker clearly plans to create some very high-tech cabins in the future, with the prologue concept's most intriguing piece of kit sitting along the dash.
Stretched across from side to side, a touch screen instrument panel replaces conventional buttons, featuring software that allows the passenger to 'swipe' things across to the driver's digital display, located behind the steering wheel.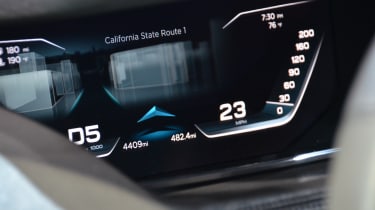 This would enable the passenger to find new routes to a destination, and swipe them across to the driver so he/she can then view them ahead. Clever.
Audi doesn't stop there; the cabin also receives another touch screen display on the centre console that can be controlled with touch handwriting, presumably to 'write' your commands in. The screen is flexible, to allow for ergonomic adjustment for maximum comfort, apparently…
A likely favourite is the virtual cockpit. Displays across the cabin can be configured to display performance figures, engine stats (including rpm and temps) as well as other useful info whilst on the go. 
Whilst the prologue concept is not exactly what you'd call production ready, it at least provides us with a very exciting peak at future Audis. The concept coupé suggests they're all set to become sexier, more tech-infested, high-performance and luxurious: we'll take that. It'll take time, but the kit demonstrated on this concept should trickle down the Audi range in the future too. We can't wait.