The Audi A6 is now in its fifth generation and like its executive car rivals from BMW and Mercedes-Benz, the latest version continues to offer a taste of life in the luxury car leagues, with levels of refinement, driver assistance systems and technology to make you think twice about paying extra for larger saloons from the class above.
From semi-autonomous functions and haptic touchscreens to mild hybrid technology, the A6 certainly competes on paper, but our recent disappointment with the A7 Sportback suggests Audi can't get complacent. The good news is, the A6 is a better effort than the A7 - but once you get past all the technology, what's it like to drive?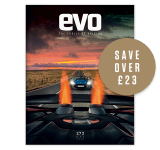 Subscribe to evo magazine
Subscribe today to have every issue of evo delivered straight to you. You'll SAVE 39% on the shop price, and get evo for its original cover price for a whole year!
Engine, transmission and 0-60 time
UK sales will kick off with three different engines, a pair of them diesel and one powered by petrol. The latter is the same 3-litre turbocharged V6 we've seen recently in both the new A7 and A8 (plus a selection of Audi's other models, including S variants in a higher state of tune), badged 55 TFSI and developing 335bhp through a seven-speed S tronic dual-clutch automatic. It's claimed to reach 62mph in 5.1sec and run on to 155mph, but as yet Audi hasn't confirmed fuel economy or CO2 figures for the model.
It's confirmed even less where its new arrival, the 40 TDI, is concerned though. Its 2-litre EA288 Evo turbodiesel power unit now uses an alloy rather than a steel block for claimed refinement benefits and 20kg less over the front wheels. It's a little more potent than the old diesel too with 201bhp, and it uses the same seven-speed S tronic as the 55 TFSI - but otherwise, details are thin on the ground.
> Click here for our review of the Audi A7 Sportback
The last remaining unit gives us slightly more to go on, the familiar turbocharged V6 diesel being badged 50 TDI and putting 282bhp and 457lb ft to the road. Like all A6s it sends power to all four wheels, though unlike the 40 TDI and 55 TFSI, it uses an eight-speed Tiptronic torque converter automatic, and unlike the 55 TFSI, its quattro system uses a self-locking centre differential, rather than a multi-plate decoupling clutch. Top speed is 155mph with a 5.5-second 0-62mph run, plus the potential for 50.4mpg economy on 18-inch wheels.
The 40 TDI is probably the most surprising engine of the trio, with high levels of refinement and the ability to deliver a solid whack of performance across a broad spread of the rev range. Ultimately it can't quite match the V6s in terms of resistance to noise and vibration and it lacks their performance too, but nor does it feel like a compromise too far. The V6s still feel more appropriate and, of the pair, it's the petrol that feels sweetest, but the diesel digs deeper for its performance from lower revs so there's not a lot in it for real-world pace. And naturally, the TDI models' economy will see them comfortably outsell the TFSI when the A6 goes on sale in the summer.
Technical highlights
All new A6 models use mild hybrid technology, which in Audi-speak means a belt-driven starter-alternator with the ability to turn the engine on and off in an instant, with a backup pinion starter motor for cold starts. The system uses 48-volt electrics in the six-cylinder models and 12v electrics in the four-cylinder cars, but the idea is similar - energy recuperation under deceleration, reduced turbo lag, and the ability to occasionally coast with the engine off - good for a 0.7-litre fuel saving every 62 miles, according to Audi.
Just as with the A7 and A8, the latest A6 has grown physically compared to its predecessor (liberating more interior room) but also grown in weight, starting at a claimed 1825kg where the old car began at 1770kg. For reference, it's also heavier than its closest competitors from BMW, Mercedes-Benz and Jaguar, though Audi's standard all-wheel drive will account for some of that mass.
What's it like to drive?
Audi failed to find the right balance between dynamism and comfort with its A7 Sportback, but thankfully it's got much closer to the mark with the A6. It handles about as well as the A7, but seems to ride with a little more pliancy and with the saloon body rather than in large four-door fastback form, the A7's uncomfortable structural resonance is nowhere to be heard.
Time with the A6 has convinced us that you're still better off avoiding some of Audi's flashier technology however, as the best of the bunch to drive on the launch event was the 40 TDI Sport, rather than the four-wheel steering and air suspension-equipped V6s on hand.
On adaptive dampers and optional 19in wheels (both V6 cars were on optional 20in wheels) the 40 TDI rode with a fluency alien to the slightly lumpier air-sprung cars. Bumps can still be felt, but the suspension feels like it's absorbing them rather than being lifted by them, and while an E-class feels more pliant still, the basic A6's ride is still more than acceptable with no apparent penalty in terms of body control.
Equally, while four-wheel steered cars undoubtedly feel nimbler, resisting understeer for longer and darting into corners sooner, the conventionally-steered car felt more progressive, had more natural weighting as the steering loads increased, and put you in better touch with what the front wheels were doing. The brakes on all models are reassuringly firm and powerful, once past an initial soft patch in the pedal travel.
Are they fun cars to drive? Not as such - fantastic refinement, high levels of grip and unflappable stability are undoubtedly welcome for a car of this type but do separate you from the action somewhat. Its quiet, comfortable, spacious and well-designed cabin and its slick controls will all delight more on a bleary-eyed early-morning airport run more than they will on a country road, and token gestures such as a Dynamic mode and the ability to change gear manually can only go so far (though to be fair, throttle response and steering weight are both very well judged in Dynamic).
It's an excellent executive saloon though - up there with the 5-series and E-class, albeit with strengths in different areas. We'll just have to wait for the inevitable S6 and RS6 models for the A6 lineup to show its more entertaining side.
Price and rivals
Audi hasn't yet confirmed full pricing details for the A6 range and neither the 40 TDI nor 55 TFSI even have estimated figures.
We do know the 50 TDI will be in the £47,000 range in entry-level Sport trim however and about £3000 more than that for the S Line, and using the A7 Sportback for comparison we'd estimate the 55 TFSI cars to be around £3000 more apiece than their diesel counterparts. The 40 TDIs should be a useful amount cheaper than the 50 TDIs.
Sport specification includes full LED headlights, 18-inch alloy wheels, standard passive dampers, a pair of touchscreens (8.8in and 8.6in), a suite of safety systems and mild hybrid technology. S Line offers all this plus Matrix LED headlights, 10mm lower sport suspension, a styling kit and 19in wheels. Options include upgrades to 20 and 21in wheels, adaptive air suspension, two different Bang & Olufsen sound systems, all-wheel steering, a head-up display, a night vision camera, power closing doors… the list is endless and generally fairly expensive.
BMW and Mercedes' closest offerings to the 50 TDI Sport are the 530d xDrive SE (£46,805) and E350d 4Matic AMG Line (£49,755). There's not a lot between them - all three offer outstanding levels of refinement, with the Audi probably edging the others on cabin quality, the BMW on dynamism and the Mercedes on comfort. And you already know which badge you prefer...