Audi S3 buying guide
Audi's premium hatch brings 261bhp and a touch of RS-style class for as little as £10k
The original S3, which ran from 1999 to 2003 and represented Audi's initial foray into the hot hatch market, came with a 221bhp version of VAG's faithful 1.8-litre turbo four-pot. It was neat, inoffensive, reasonably quick – and generally rather underwhelming. For the second generation, launched late in 2006 for the 2007 model year, the ante was upped considerably. 
In came a 261bhp version of the latest 2-litre TFSI turbo, the extra power over the regular 197bhp TFSI coming from a new, bigger turbo and revised intercooler, but Audi also fitted strengthened conrods, gudgeon pins and bearings, along with new pistons and a different cylinder head material for greater heat resistance.
Power was passed through a close-ratio six-speed manual gearbox (a paddleshift DSG 'box called S-tronic came later) and an updated version of the excellent Haldex four-wheel-drive system. The net result was 0-60mph in 5.6sec and a top speed electronically pegged at 155mph. The brakes were uprated and the suspension was lowered and retuned, with more aluminium components to reduce unsprung weight.
MORE: New Audi S3 review, prices and specs
It was all packaged in a typically understated body, but with just enough visual attitude – RS4-lite grille, rear diffuser and optional S-design alloys – to elevate it above the common A3. Inside it was typical mid-2000s Audi and none the worse for that, though you paid a substantial premium for such tempting options as the high-backed RS4-style bucket seats, flat-bottomed steering wheel and Bose surround-sound hi-fi. We liked it when we first sampled it in Germany, and when we pitched it against its rivals on UK roads we liked it even more.
Available initially only as a three-door hatch, a summer 2008 refresh saw the introduction of a five-door Sportback version that added 72mm to the car's overall length and 40kg to its kerb weight. There was also a faster-reacting hydraulic central clutch in the Haldex system, the options of Magnetic Ride dampers and six-speed S-tronic, and a few subtle visual tweaks including xenons with LED daytime running lights.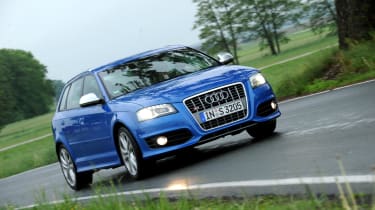 Audi S3 driven
Audi S3 v Alfa Romeo Brera V6 v BMW 130i v Mazda 3 MPS
'The S3 isn't a car that causes many second glances but it's shot through with quality. The fit and finish and sense of integrity are deeply satisfying, the seats are superb and the driving position is excellent.
'A few miles in, it's clear the S3 is a very polished car. Its turbocharged four-cylinder engine is just pipped for outright power by the Mazda 3 MPS's, but it sounds better, revs more smoothly and boosts from lower revs. The four-wheel-drive system delivers absolute traction with no fight at the wheel, but in contrast to the Mazda and Alfa Romeo Brera, the steering gives a good impression of how hard you're working the front end. And you can work it very hard indeed. The S3 scythes into turns without hesitation, resisting understeer astonishingly well, finding huge grip and remaining poised and adjustable throughout.
'Yet you don't have to wring the S3 out to enjoy it. It's an effortless, comfortable long-distance car with an easy poise, excellent refinement and useful flexibility.' (evo 106)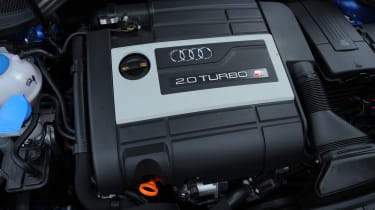 Audi S3 owner's review
Tim Netherton - 'My S3, acquired in September 2011, was a demo model at Portsmouth Audi with 2000 miles on the clock, full leather, satnav, a panoramic sunroof, Bose speakers and the S-tronic gearbox. I ran it for just over two-and-a-half years, covering 32,000 miles, and until the latter part of that time it ran faultlessly.
'In December 2013 a failure to start was diagnosed by the RAC as a flat battery, but the car repeated the trick two weeks later. Portsmouth Audi couldn't find the underlying issue but replaced the battery as a gesture of goodwill. Then I started getting brake judder when slowing from higher speeds. Audi diagnosed warped front discs, which were replaced for £548. Two weeks further on, the juddering started again. The discs were replaced again, free of charge, but when I traded the car in I wasn't convinced all was well.
'The pluses were the car's point-to-point pace, good grip levels – quattro was fantastic when it snowed – top build quality and the excellent satnav and stereo. On the downside, it was rather "soulless" and lacking feel. Generally the car returned about 26mpg; the most I ever saw was 31mpg. It also had an appetite for tyres, needing four replacements at £107 each, and it had two Audi services at £225 each.'
Find used Audi S3's for sale on the Classic and Performance Car site here.