Alfa Romeo Brera V6 v Audi S3 v BMW 130i v Mazda 3 MPS
BMW's 261bhp 130i M Sport is more desirable than ever, but are there more interesting ways to get the same power?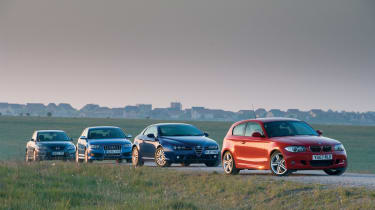 The most telling moment of a group test is rarely reported. It often occurs when the sun is going down and the photographer is artfully composing his final shots (or faffing, as we road testers call it), and it is simply this: which car do you want to take home? As a measure of which is the most desirable car, it's the most honest indicator there is. The one certainty in this test is that whatever the choice, the car isn't going to lack power. All four contenders have around 260bhp, comfortably in excess of the average fast hatch, though the way it is created and deployed is unique to each.
Just landed is the three-door version of the BMW 130i M Sport with the excellent 261bhp Valvetronic straight-six powering the rear wheels. With its flanks broken by two big doors rather than four little ones, it looks cleaner and smaller somehow, while BMW's engineers have taken the opportunity to mildly tweak the suspension and steering. At £26,385 it's a mere £530 less than the five-door version.
Slightly more expensive, at £26,975, and exactly as powerful, the Audi S3 boasts the most potent version of VAG's FSI turbocharged 2-litre in-line four and shares its 261bhp between all four wheels. Yet even with its RS4-style 'goatee' grille and optional pearlescent blue paint, the S3 looks rather plain beside the BMW.
Not quite as plain as the Mazda 3 MPS though, even in revised 'Sports Aero Kit' spec, which brings a bigger tailgate spoiler, smaller door mirrors and, crucially, lowered and stiffened Eibach suspension. Its 2.3-litre turbocharged in-line four cooks up 256bhp and 280lb ft, making it the torquiest engine here, and all that urge is fed through the front wheels only. The MPS is the most potent front-drive hatch on sale and also the least expensive car here at a mere £19,495.
Partnership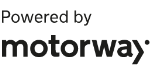 Need to sell your car?
Find your best offer from over 5,000+ dealers. It's that easy.
Park it next to the Alfa Romeo, though, and it is practically invisible. Like the original TT, the Brera made the leap from show car to production car largely intact, and from any angle it's bold and distinctive. This is the range-topping 3.2 JTS V6 Q4, with four-wheel drive and a 256bhp quad-cam 3.2-litre V6 in its nose, and in this spec doesn't come cheap – it costs £29,250.
Pre-match favourites are all very well, but the joy of group tests is that they throw up surprises and reveal strengths and weaknesses more readily and with greater definition than a solo drive can. And there were a few surprises along the way here, including a new fastest hot hatch lap at the Bedford Autodrome and a new best hot hatch 0-60 time at Millbrook.
Verdict Well, if you're on a tight budget and all you want to do is go fast, or if you've got a bank job lined up, the Mazda is the car for you. The MPS offers an awful lot of performance for the money, but not a lot else. That it can actually get almost 260bhp to the road through just the front wheels effectively is extraordinary, but in the final analysis it feels like a hotted-up hire car.
In many respects, the Alfa is its opposite. Extrovert inside and out and powered by an engine that brims with character rather than raw power. The more I drove it, the more I liked it, but it really needs to make its mind up whether it's a sports car or a very capable luxury coupe. It feels closer to the latter, despite the clunky auto, and while it's far from perfect and costs too much, that's true of most indulgences, isn't it?
The Audi S3 and BMW 130i M Sport are way out in front. The Audi is more of a drivers' car than it appears, with keen steering and a poised and adjustable chassis, and after its turns at Millbrook and Bedford there's no questioning its pace and ability. The BMW has more spirit, a superb engine and a wonderful gearshift, and an intrinsically more demanding and engaging layout. It remains a flawed car though, the feel of its chassis occasionally vague, its ride confounded by particularly lumpen B-roads. It's a close call. The Audi is the logical, rational choice, the winner on points, but for all its faults, the BMW is the car most of us want to take home.
Comparison
| | | | | |
| --- | --- | --- | --- | --- |
|   | Alfa Romeo Brera | Audi S3 | BMW 130i | Mazda 3 MPS |
| Engine: | V6 | In-line 4-cyl | In-line 6-cyl | In-line 4-cyl |
| Location: | Front, transverse | Front, transverse | Front, longitudinal | Front, transverse |
| Displacement: | 3195cc | 1984cc | 2996cc | 2261cc |
| Bore x stroke | 89 x 85.6mm | 82.5 x 92.8mm | 85 x 88mm | 87.5 x 94mm |
| Cylinder block | Aluminium alloy | Aluminium alloy | Aluminium alloy | Aluminium alloy |
| Cylinder head | Aluminium alloy, dohc per bank, 4v per cyl, variable valve timing | Aluminium alloy, dohc, 4v per cylinder, variable valve timing | Aluminium alloy, dohc per bank, 4v per cyl, Double-VANOS | Aluminium alloy, dohc, 4v per cylinder, variable valve timing |
| Fuel and ignition | Electronic engine management, multipoint fuel injection | Electronic engine management, multipoint fuel injection, turbo | Electronic engine management, multipoint fuel injection | Electronic engine management, multipoint fuel injection, turbo |
| Max power | 256bhp @ 6300rpm | 261bhp @ 6000rpm | 261bhp @ 6650rpm | 256bhp @ 5500rpm |
| Max torque | 237lb ft @ 4500rpm | 258lb ft @ 2500-5000rpm | 232lb ft @ 2750rpm | 280lb ft @ 3000rpm |
| Transmission | Six-speed Qtronic automatic (six-speed manual standard), four-wheel drive, ASR | Six-speed manual, four-wheel drive, electronic differential lock, ASR | Six-speed manual, rear-wheel drive, DTC MacPherson struts, coil springs, dampers, anti-roll bar | Six-speed manual, front-wheel drive, limited-slip differential, TCS |
| Front suspension | Double wishbones, coil springs, dampers, anti-roll bar | MacPherson struts, coil springs, dampers, anti-roll bar | MacPherson struts, coil springs, dampers, anti-roll bar | MacPherson struts, coil springs, dampers, anti-roll bar |
| Rear suspension | Multi-link, coil springs, dampers | Four-link, coil springs, dampers anti-roll bar | Multi-link, coil springs, dampers, anti-roll bar | Multi-link, coil springs, dampers, anti-roll bar |
| Steering | Rack and pinion, power-assisted | Rack and pinion, power-assisted | Rack and pinion, power-assisted | Rack and pinion, power-assisted |
| Brakes | Vented discs, 330mm front, 292mm rear, ABS, EBD | Vented discs, 345mm front, 310mm rear, ABS, EBD, ESP 7.5 x 18in front and rear, aluminium alloy | Vented discs, 330mm front, 300mm rear, ABS, CBC, ASC, DBC, DSC | 320mm vented discs front, 280mm solid discs rear, ABS, EBD, EBA, DSC |
| Wheels | 7.5 x 17in front and rear, aluminium alloy | 225/40 R18 front and rear, | 7.5 x 18in front and rear, aluminium alloy | 7 x 18in front and rear, aluminium alloy |
| Tyres | 225/50 R17 front and rear, Pirelli P-Zero | Conti SportContact 2 | 205/45 R18 fr, 225/40 rr, run-flat Goodyear Eagle NCT5 | 215/45 R18 front and rear, Bridgestone Potenza RE050A |
| Kerb weight | 1650kg | 1455kg | 1475kg | 1410kg |
| Power-to-weight | 158bhp/ton | 183bhp/ton | 180bhp/ton | 184bhp/ton |
| Basic price | £29,250 | £26,975 | £26,385 | £18,995 |
| Price as tested | £33,950 | £30,395 | £29,370 | £19,495 |
| Extras fitted include | Qtronic automatic gearbox, electrically adjustable seats, metallic paint, satnav, CD player | Pearl effect paint, satnav, rain and light sensor pack, multi-function sports steering wheel | Leather upholstery, media package, visibility package, USB/audio interface | Sports Aero Kit |
| Insurance Group | 18 | 18 | 17 | 17E |
| On sale | Now | Now | Now | Now |
| evo rating | 3/5 | 4/5 | 4/5 | 4.5/5 |