Audi S3 buying guide - Audi S3 buying checkpoints
These are the things you need to know about buying the Audi S3
Checkpoints
Audi S3 engine and transmission
Andy McLeish of APS (autops.co.uk) says the 2-litre TFSI is generally robust and reliable if serviced on time, but does occasionally suffer an issue with the fuel pump cam follower wearing prematurely, potentially causing serious scoring to the camshaft. It can be checked annually, but replacing the follower is a cheap service item and well worth it for peace of mind. Sometimes the oil breather valve on the front of the cam cover sticks, causing misfires or boost issues, but it's also a cheap part. Regular servicing – APS recommends every year or 10,000 miles – will help allay both issues. A cambelt change is due at 70k miles or five years, whichever sooner.
With the manual gearbox, listen for rattling or chattering, particularly under deceleration. They could indicate it's heading for a rebuild. Clutches can last 80k miles, but if a car is remapped it will need an uprated clutch. DSG 'boxes seem to last well, but it's crucial the oil and filter are changed at 40,000 miles, preferably sooner. Degraded and dirty oil affects gearchange quality and causes the gearbox to overheat or the clutches to burn out. The Haldex transmission (oil and filter change needed at 20k miles/two years) is very robust.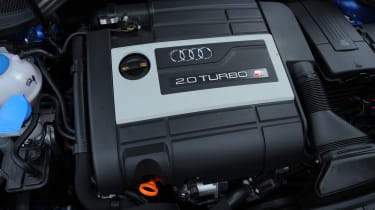 Audi S3 suspension, steering and brakes
Owner Tim Netherton (see the previous page) has warped disc issues, but McLeish says this is very rare and the brakes are generally more than up to the car's performance. 'You can get a Brembo GT kit,' he says, 'but the standard set-up, maybe with the addition of fast road pads, is just fine.'
Andy hasn't come across any particular issues with the S3's suspension and steering. 'We replace the odd damper, but nothing out of the ordinary. Listen out for the top mounts knocking, but the S3 has solid wishbone bushes so they last well. Generally we have very few issues with the S3. It's a good all-round package.'
Audi S3 body, interior and electrics
No corrosion issues, so just check for uniformity of panel gaps and any signs of overspray that could indicate accident repairs. Inside, there are no S3-specific issues to worry about, but any signs of excessive wear or damage to trim may mean the car has lived a hard life and better examples can be found. The rear wiper motor is prone to failure, so check that along with all the electronic toys.
Find used Audi S3's for sale on the Classic and Performance Car site here.