Audi S5 Sportback
Audi will debut the supercharged Sportback at Frankfurt alongside titchy engined A3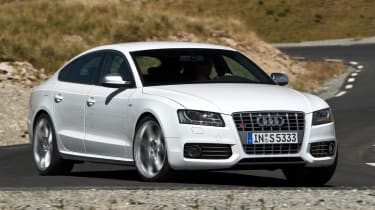 Audi is lining up a number of new car debuts for September's Frankfurt motor show.
The headlines go to the S5 Sportback, the inevitable extension of the hatchback A5 range. It gets the supercharged 3-litre V6 petrol engine from the Audi S4 and S5 Cabriolet, offering up 328bhp and 325lb ft, enough to fire the Sportback to 62mph in 5.4sec and onto a predictably limited 155mph maximum.
Standard to the five-door S5 are Audi's seven-speed twin-clutch automatic transmission and Quattro all-wheel drive. The latter can be combined with the firm's sport differential, which varies power on the rear axle between the wheels to sharpen up the dynamics. The S4's Quattro system already boasts a rearward torque bias, making the car one of Audi's recent successes, and we'd expect similar things from the Sportback.
Sales begin next spring, with prices in Germany starting at around £50K. Expect it to be cheaper here in the UK, with the S5 Coupe costing £39,655. Sportbacks are cheaper than their Coupe equivalents across the rest of the A5 range.
Sitting alongside the new S5 at Frankfurt will be Audi's nod to the latest downsizing trend – an A3 hatchback with a 1.2-litre petrol engine. Fear not, as it comes with a turbocharger and direct injection to ensure power tops the 100bhp mark. There's a mighty 104bhp going through the front wheels, alongside 129lb ft of torque available from a highly usable 1500rpm.
It's enough to take the A3 from 0-62mph in 11.1sec and onto 118mph, but the real reason to buy one will be its 51.3mpg fuel economy. No word on prices or on sale dates yet, but it will come in three and five door versions mated to a six-speed manual transmission.
Click here for the latest from the Frankfurt motor show, which kicks off on September 15 2009. We will be there providing full live coverage, so keep checking evo.co.uk for all the news.