700bhp Bentley Continental GT Supersports to be announced
Bentley has released a new video showing at its most extreme model yet
We expect to see a replacement for the Bentley Continental GT later in the year, but before then we'll be treated to a proper goodbye for the big coupe. A very short video released yesterday showed hints of a more intense, driver focused version of the Continental as a last hurrah for its big send-off. A new, much longer, video shows the car in full and reveals that it's called a Supersports.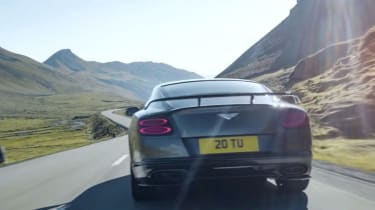 The video also divulges the new cars power and performance figures. The W12 powered Supersports will put out 700bhp and will reach 0-62mph in 3.4sec and go onto a top speed of 209mph. As for the details on what makes the model the most extreme Bentley ever, which the first teaser video declared, we're still no more informed than before.
What the videos reveal does look promising. We can see the new Supersports has large diameter, diamond-cut alloy wheels in front of carbon ceramic discs and a red brake calipers. Another shot showing carbonfibre bonnet vents and wing suggests Bentley has gone to some lengths to keep this new car relatively light.
To make this the most extreme Bentley ever the marque will have to go some way to out-do its previous attempt at a hardcore Conti, the stripped out V8 powered GT3-R. With input from Bentley's motorsport division the raciest Continental (so far) had a shorter final drive, torque vectoring and carbon-ceramic brakes as standard. The chassis was stiffened comprehensively, too, including firmer springs, dampers and bushes and thicker anti-roll bars.
> Click here to read our review of the Bentley Continental GT3-R
To keep weight down the rear seats were removed, many of the interior panels were swapped with carbonfibre replacements. A titanium Akrapovic exhaust system and forged alloy wheels also helped remove 100kg from a standard V8 Continental. Despite such extreme measures the GT3-R still weighed 2120kg, and although it's the most agile and responsive Bentley we've ever tested it could hide that huge mass entirely.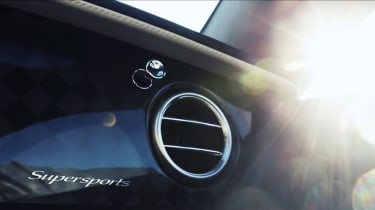 This isn't the first Continental Supersports. The first version was also powered by the firm's W12 but produced just 621bhp, 79bhp less than the new model. But even so, it felt fast and agile and as luxurious as a Bentley should be. 
> Click here to read our review of the Bentley Continental Supersports
We're huge fans of Bentley's previous hardcore efforts and hope this new Supersports combines some of the GT3-R's involvment with even more pace.