Bentley's new Flying Spur has two roles to play following the retirement of the Mulsanne from public duties. Not only does it need to provide the four-door alternative for Continental GT customers who need the additional space, but it is now also the company's standard bearer: the flagship that represents Bentley and its best. 
Thankfully it's starting from a very good place, the latest Continental GT being light years ahead of the car it replaced in 2018 in every conceivable area, a Bentley that delivers on the driving side as much as it does on the luxury, which hasn't always been the case. It means the new Flying Spur couldn't have hoped for a stronger foundation to be built on.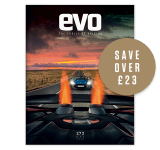 Subscribe to evo magazine
Subscribe today to have every issue of evo delivered straight to you. You'll SAVE 39% on the shop price, and get evo for its original cover price for a whole year!
Engine, transmission and 0-60mph
How much longer Bentley can continue to engage its W12 twin-turbocharged engine into service is quite possibly a discussion that's already well under way at Crewe (and Wolfsburg), although expect some level of electric hybridisation to be employed before the last 12-cylinder pure internal-combustion-engined Bentley is built. 
In the meantime, the W12 remains one of the finest examples of refined power. It still has a bark when poked and encouraged, but for the majority of time the W12 performs as you would expect a 6-litre, 12-cylinder engine with a couple of lightly stressed turbochargers to. 
> New Bentley Continental GT review - has Bentley's new GT been worth the wait?
For the new Flying Spur, Bentley has added cylinder deactivation (the return of the six-cylinder Bentley – occasionally) along with a new high-pressure direct fuel injection system, with low-pressure injection to maximise refinement, optimise power and torque delivery, and lower emissions. New turbochargers are also responsible for a 15 per cent improvement in efficiency.
As with the Continental GT there's a new ZF-sourced eight-speed dual-clutch transmission, which connects to the W12 via a new dual-mass flywheel and has allowed Bentley to equip the Flying Spur with a launch mode, which goes some way to explaining the 3.7 second 0-60mph time. Faster gearshifts thanks to the pre-selecting capability of the gearbox reduce lag between torque delivery to all four wheels via the car's new adaptive four-wheel-drive system, a system that also means the Spur is rear-wheel drive until it needs to be four-wheel drive, at which point torque is distributed to the front axle accordingly. 
Further functions of the four-wheel-drive system include a torque limiting function, with up to 354lb ft of the 664lb ft total sent to the front axle in Comfort and Bentley modes, whereas in Sport mode front axle torque is restricted to 206lb ft. Regardless of the driving mode the torque delivery is managed across each axle by Bentley's torque-vectoring-by-braking system, first developed for the Continental GT3-R Supersports.
Top speed – 207mph – is reached in sixth gear, with seventh and eight calibrated for cruising and maximum fuel efficiency. 
Technical highlights 
With a new active four-wheel-drive system, the new Flying Spur benefits from a drivetrain that can manage torque depending on the selected driver mode. Comfort, Bentley (the set-up the engineers feel the car performs at its best in) and Sport (which sends the lowest percentage of the engine's torque to the front axle compared to the other modes) all provide the 'most dynamic driving experience with the crispest responses' depending on your mood. 
Taken from the 2014 Continental GT-3 R Supersports model, the torque-vectoring-by-braking system has been thoroughly overhauled to suit the Flying Spur's characteristics and weight, splitting the torque further by adjusting the level delivered to each individual wheel as required. 
For the Flying Spur the front axle has been positioned further forward to allow the W12 motor to fit, with the engine's sump split by the axle. Active anti-roll bars and four-wheel steering, which are both part of the car's 48-volt electrical system, plus three-chamber air suspension, revised tracks and an increased wheelbase length are all bespoke to the Flying Spur, too. 
Away from the oily bits the technology continues inside, with ten driver assistance systems available, from night vision to 360 degree cameras, all of it powered by a lighter, more efficient electrical system that has allowed Bentley to reduce the number of 12-volt batteries required in the car from two to one. 
Then there are the connected services: Apple CarPlay, Wi-Fi hotspots, head-up displays, traffic sign recognition software and active heating systems. Plus the digital screens, including a 12.3-inch touchscreen in the centre console. 
What's it like to drive?
If you've driven a previous-generation Flying Spur forget everything about that model, because this new car shares only its name. When it comes to driving, everything else about how it feels from behind the wheel is on a much higher level. 
A car's design shouldn't have an effect on how it drives, but rear three-quarter aside, which looks a little too close to a Volvo S90 for some, the Flying Spur's superformed aluminium body is so much more elegant and soothing on the eye that it makes its predecessor's body look rather bland and heavy surfaced by comparison. The new Spur has you in the right mood as soon as you approach it. 
The interior, too, lifts your spirits. Yes, there are recognisable VW Group parts in here, predominantly the instruments and infotainment system, but the fit and finish of every detail, the magic of the three-dimensional leather, the sense of being wrapped in luxury, combines to create a rarefied atmosphere of subtle indulgence. As a replacement for the Mulsanne, the Flying Spur has it covered. 
And then you start the W12. It rumbles gently before settling almost silently and, unless you want to, you won't hear much from it again. Of course it glides around in absolute serenity, but you'd expect it to do that because it's a 5.3-metre-long limo designed to be the most refined car you can buy. The eight-speed transmission irons flat the drivetrain, you seem to just reach the required speed with barely a joint of your body moving, nor you noticing a mechanical part in operation. But it doesn't last long if you appreciate quality engineering and exploring a car's outer reaches. 
Because before long you realise the new Flying Spur has an agility that's as impressive as its imperious quality. The active roll-bar system, developed with Audi, is far superior to any application on any VW Group product. The Bentley doesn't corner flat like a GT3 RS, but you wouldn't want it to. What it does do is move with a precision rivalling the fit and finish of the body panels. It surprises you with its delicacy, and before long you're travelling at a pace and with a level of enthusiasm you might normally expect to experience behind the wheel of an M5, not a 2437kg Bentley. Not that this is an M5 rival you understand, rather it encourages you to enjoy yourself like the best supersaloons do, while remaining totally within itself. 
Its four-wheel steering plays an insignificant part In this, adding to the agility required to make you feel comfortable exploring the W12's 626bhp, which in turn benefits from the active four-wheel drive. Leaving the car in Bentley mode leaves you impressed, winding it up to Sport feels a little like overkill for a car that carries two crystal glasses in its rear-seat fridge, but if you feel inclined to spill your passengers' drinks, the Flying Spur will happily be your accomplice. 
What really makes this Flying Spur stand out is its ability to be what you need it to be. If time allowed you would never bother with a short-haul flight again, the Spur being the only genuine rival to an S-class as the car you'd happily drive for 12 hours straight. That it will be more fun should some of the roads be interesting is the icing on the cake. 
It's not an evo car in the truest sense, but it is a car that appeals to evo's appreciation for automobiles that are designed for a purpose and nail the brief with unnerving accuracy. It's one of the ultimate guilty driving pleasures you can buy.
Price and rivals 
The new Flying Spur starts at £163,800, which once you've played with the configurator will creep up by twenty, most likely thirty or almost forty thousand pounds. But choice has never come cheap.
The Bentley's natural rival comes from Goodwood, although we're still waiting for the new Rolls-Royce Ghost to make its debut. Then there is the Mercedes-Maybach, the S-class-based limo. It's your only option for a V12-engined Mercedes and at £183,245 the 621bhp S650 is the closest the Stuttgart brand offers to a rival for the Bentley. It wants for nothing, but in this company it would always play second fiddle to the car from Crewe.