It doesn't matter which way you cut it; if you're wanting the ultimate in pure driving thrills then nothing but a front-engined, rear-wheel-drive car will do. The template was set by French firm Panhard in 1891, and despite the onset of various different front/mid/rear layouts, it's the near-130-year-old original that still reigns supreme.
Why? Well, it's partly familiarity, but mostly because this is the configuration that delivers the most balanced and approachable handling (mid-engined cars have a more even distribution of masses, but the trade-off is edgier behaviour at the limit). With a more nose-heavy bias, most rear-wheel-drive cars respond relatively predictably when the limit of grip is breached and, if you're feeling brave, this tendency can be exploited to deliver some sideways showboating.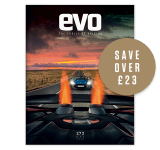 Subscribe to evo magazine
Subscribe today to have every issue of evo delivered straight to you. You'll SAVE 39% on the shop price, and get evo for its original cover price for a whole year!
> Click here for more on the best cars of 2019
There are other reasons, too. With nothing to do but steer and brake, the front wheels tend to deliver more consistent and uncorrupted feedback through the steering wheel and into the driver's hands, while the combination of engine over the front axle and relatively unloaded rears mean that you can 'steer' the car using the throttle – essentially changing its attitude by reducing or applying power. Gearshifts tend to be accurate and precise, too, because the lever is more often than not connected directly to the transmission, rather than taking some convoluted route through numerous linkages.
There are practical reasons, as well (well, you've got to think like that sometimes), because packaging a rear-wheel-drive machine is far easier than a mid-engined model. That means you can have a wider array of bodystyles – from slinky two-seater roadsters through to huge saloons with equally large power outputs. So which cars are best? Click on the links below as we give a rundown of our favourites.
BMW M4 Competition Package
The BMW M4 had a shaky start to life, it's undoubted performance prowess undermined by a chassis that was as spiky as an iron maiden. Yet since its 2014 debut the masterminds at M Performance have been carefully tweaking away, culminating in the 2018 Model Year M4 Competition Pack. Featuring more power than the standard car, lowered and stiffened suspension with recalibrated dampers and a smattering of visual tweaks, it's the car the M4 should always have been. It's not totally lost its raw edge, but the line between triumph and disaster is wider, giving you more opportunities to revel in its beautifully balanced rear-drive handling. You can now trust the M4 and believe it's on your side, which allows you to make indecently rapid, yet hugely entertaining, progress.
> Click here for our review of the BMW M4
And when you're not driving flat out you can revel in the details that mark it out as a car developed by passionate car nuts. For instance, it's lighter than, say, an Audi RS5 or a Mercedes-AMG C63, while our scales revealed a near-perfect weight distribution.
It all adds up to a truly special machine that's both properly serious and laugh-out-loud fun.
Alfa Romeo Giulia Quadrifoglio
It's taken Alfa a while, but after nearly two decades in the wilderness it has finally delivered a car worthy of its illustrious past. In fairness, you can pick any model in the Giulia line-up and come away with a cracker, but for the full-fat rear-wheel-drive experience you really need the fast flagship Quadrifoglio, or QV.
It's not hard to understand why it's the pick of the bunch – just take a look under the (carbonfibre) bonnet. Here you'll find a twin-turbocharged 2.9-litre V6 that pumps out 503bhp, which is directed to the rear wheels via an eight-speed automatic gearbox and electronically controlled limited-slip differential. The engine doesn't pack the glorious, creamy cry of the old Alfa V6s, but it delivers scorching pace and allows you to effortlessly exploit the Giulia's beautifully balanced chassis.
> Click here for our full review of the wonderful Alfa Romeo Giulia Quadrifoglio
The engineer behind the Ferrari 458 Italia had a hand in the QV's development, so it's no surprise to find it has similarly quick steering and a beautifully supple gait over undulating roads. There's bags of grip, yet that twin-turbo powerhouse can be brought into play at any moment, allowing you to dance the car through bends using your right foot as much as the steering. It's as fun as it faithful. And when you just want to mooch, the Alfa is as comfortable and easy-going as any Alfa.
Mazda MX-5
You can't have a list of rear-wheel-drive cars without dropping the Mazda MX-5 into it. The delicate Japanese machine has virtually dominated the small roadster market since it made its retro-inspired debut three decades ago. Now in its fourth generation, the latest version is arguably the best. Quick enough, agile and easy to use every day, it's a hassle-free way to get your rear-wheel-drive kicks.
> Click here for our review of the Mazda MX-5
There are two engines to choose from, but arguably it's the sub-1000kg entry-level 1.5-litre that's the sweeter choice – the big-banger 2-litre adds muscle and a limited-slip differential, as well as mass. Whichever model you choose you get the same wrist-flick gearchange, chatty steering and balanced chassis that places driver grins above outright grip. It's a surprisingly soft car, with more roll than you'd expect on turn-in. Yet you quickly discover that this is part of the car's dynamic repertoire; another part of its communication process with the driver as it lets them know just how much grip there is. Get used to it and you can start to use this shifting of weight to your advantage – flicking the wheel here, squeezing on the throttle there – to get the car pointing exactly where you want. For the money, there's little that comes close to matching the Mazda's pure rear-wheel-drive fun.
Mercedes-AMG C63 S
Some rear-wheel-drive cars are more rear-wheel drive than others. If that sounds like an odd statement, then a quick drive in a Mercedes-AMG C63 S will allow you to make sense of it. You see, with a bombastic twin-turbocharged 4-litre V8 shoehorned into the relatively compact C-class frame, the C63 has a defiantly old-school muscle car feel about it. It's not that there isn't a sophisticated chassis lurking within the Merc, it's simply that when push comes to shove the rear tyres' purchase on the tarmac is quickly overwhelmed by that sledgehammer engine
It's one of the great internal combustion units, this hot-V, pumping out a not inconsiderable 503bhp. Performance is blistering, even in a car that weighs north of 1650kg in its lightest coupe guise (there are also saloon, estate and convertible variants), while the noise is equally exciting as it segues from canal boat chug-chug at idle through to a full-blooded NASCAR holler as the revs zero in on the red line.
> Click here for our review of the Mercedes-AMG C63 S
The steering has a natural rate of response and meaty weighting, while turn-in bite is strong and body control is impressive – only at really big speeds does the C63's mass start to tell as the dampers start to struggle with the inevitable laws of physics. Traction's pretty impressive, too, particularly in the dry – although full deployment of the V8's firepower will have the traction control light blinking like a demented Christmas tree decoration. You can gradually release the stability control's shackles using the various driver modes, but even with the safety net removed such is the Mercedes' natural balance that it feels benign and approachable, provided you've got the space to play.
Wind everything back to Comfort mode and the Mercedes turns into a pussycat of a daily driver, albeit one with a deep voice and a shocking turn of speed.
Caterham Seven
No list of rear-wheel-drive cars would be complete without the purist of them all: the Caterham Seven. Tracing its roots back 70 years to a self-build Lotus, the lightweight Seven is pretty much an engine, gearbox, propshaft and rear-axle that's been given four wheels and the most rudimentary bodywork. It all sounds a bit Heath Robinson, but what the Caterham lacks in sophistication it makes up for in pure, undiluted driving engagement.
There's a wide range of engine options, from a tiny 80bhp turbocharged 660cc three-cylinder through to a 310bhp supercharged 2-litre, but with a kerb weight that starts the skinny side of 500kg, all models are quick – even the entry-level model will sprint from 0 to 60mph in under six seconds. More importantly, they all share the same near-telepathic connection between car and driver, the Seven responding to your inputs at an almost synaptic level. Steering is by wrist action rather than arms, the button-sized wheel being a conduit of ceaseless chatter from tarmac to fingertips.
> Click here for our review of the Caterham Seven
You get the same sense of connection through the seat of you pants, located as they are just inches from the rear axle, and before long you and the Caterham are flowing down the road as one, your inputs and corrections happening before you've had a chance to think about it. This allows you to push the car up to and over its limit without fear of reprisals, the minimal mass meaning the Seven rarely gets wayward. It's an absorbing and endlessly entertaining experience and one that makes all the noise and impracticality melt into the background.
Toyota GT86
In a line-up of humdrum hybrids and worthy-but-dull hatchbacks, the Toyota GT86 seems like it's fallen into the wrong manufacturer's price list. It's not that Toyota doesn't know how to have fun (I give you generations of Celica, Supra and MR2), but it seems like years ago that it hung up its dancing shoes. As a result, the GT86's arrival in 2012 caused something of a stir, given that its sole purpose was to deliver driver thrills. Developed in collaboration with Subaru (for those with a left-field bent then the rare BRZ is mechanically and visually identical), the four-seater coupe was designed to meet a simple brief: it must be rear-wheel drive, naturally aspirated and be able to carry four spare wheels for trackday use. If that sounds like a dream combination, then the icing on the cake was that it had to be relatively affordable, too. What's not to like?
> Click here for our review of the Toyota GT86
In reality, the GT86 is something of a flawed masterpiece, but it offers more than enough excitement to warrant a trip to your local Toyota dealer. Low points include the effective but rather breathless 2-litre flat-four motor and the '80s throwback interior, but if you can live with these then the GT86's other charms will soon win you over. The use of low-rolling resistance (that's chuff-all grip to you and me) tyres means the Toyota feels very rear-wheel drive, with the car moving around on the throttle at even modest speeds. It's a great tonic in an age of ever-increasingly tenacious tyres, allowing you to learn your rear-wheel-drive craft at sane speeds, particularly with the stability control in its half-way-house setting. The steering is faithful and geared for quick but friendly responses, while like the Mazda MX-5 there's a degree of body movement that helps build a clearer picture of the car's breakaway characteristics. This is a car that's on your side; that wants you to have fun. If you're looking for a gateway into the rear-wheel-drive world, then look no further than the GT86.
BMW M2 Competition
We've currently only driven the M2 Competition on Spanish roads (and track), but already it's shaping up to be one of the best M-cars in a generation. By packing a powerful motor and heavily upgraded suspension into a compact two-door package, the Competition finally captures some of the magic that BMW has been trying to recreate ever since the demise of the legendary E30 M3.
Key to the M2's success is the adoption of a proper, full-fat M-car engine in the form of the M4's twin-turbocharged S55 (the original had a development of the more mundane M135i's unit). It packs more power and torque (404bhp and 406lb ft respectively), but crucially it comes with more soul as standard, revving relentlessly to 7500rpm while emitting a properly guttural howl. When matched with the standard six-speed manual gearbox (a seven-speed twin-clutch DCT is optional) it alone almost makes the price of entry worthwhile.
> Click here for our first drive of the BMW M2 Competition
Yet it's the chassis tweaks that really help the Competition shine, the addition of a strut brace and bulkhead strengthening, plus stiffer rose joints for the rear axle, all helping to make the M2 a more communicative and faithful partner. The old car's meaty steering and tenacious turn-in grip remain, as does the agility offered by its short wheelbase. But where the old car could get a bit scrappy at the limit, this refreshed version now feels more precise and measured. You can more accurately use the throttle to tailor your line through corners, which gives you confidence to toggle the recalibrated ESP into its MDM mode, or even switch it off completely. Doing this unlocks the M2's previously untapped potential and allows you to flow down the road playing steering off against throttle and vice versa. Severe bumps can still knock the passive-damped suspension off its stride, but it's a small price to pay for such a quick and involving machine.
Ferrari 812 Superfast
For years the accepted supercar wisdom was that you should put the engine in the middle of your car, behind the driver and passenger and ahead of the rear axle. It was a doctrine Ferrari subscribed to with as much zeal as the rest, with legendary models such as the Testarossa, 288 GTO and F40. Yet when the 550 appeared it represented a shift in philosophy for the Italian brand. From that point on its high-performance halo models switched to a more traditional front-engined layout – although with the big V12 (and it's always been a V12) nestled between the front bulkhead and front axle, the weight is still hanging in the middle of the car.
The latest exponent of this approach is the 812 Superfast, which itself is a heavily revised version of the old F12. Featuring a 789bhp (yes, you read that right) 6.5-litre V12 driving a rear transaxle, this is arguably the most extreme and exciting rear-wheel-drive machine you can buy, provided you've got the thick end of £300k down the back of the sofa.
> Click here for our review of the Ferrari 812 Superfast
Of course, it's the engine that dominates – how could it not? Revving to nearly 9000rpm with the same hyperactive enthusiasm of a small-capacity Honda VTEC, this naturally aspirated V12 unit is an engineering work of art. It howls with a loud yet cultured tenor, has oodles of torque from what feels like tickover and a scalpel-sharp throttle response that no turbocharged rival can match. And it's fast; oh my word is it fast.
However, what's impressive is that the chassis is up to the task. Just. There's more traction than you've any right to expect, while the quick rack and four-wheel steer deliver agility that's spooky for such a big car. Of course, it can't cheat physics and a car this wide can feel unwieldy on tight British roads, but when the tarmac opens up the 812 is electrifying company. More importantly, that classic mechanical layout means its grip and balance are more accessible for more of the time. It feels more friendly than mid-engined rivals, encouraging you to push up to its limits. Of course, it's still a near-800bhp supercar capable of more than 200mph, so you need to bring your A game to proceedings, but for sheer adrenaline-soaked excitement and driver interaction few come close to the 812 Superfast.
Ford Mustang
It's not the most sophisticated contender in this list, but what the Ford Mustang lacks in cultivated good manners it makes up for with rugged charm and serious performance per pound credentials, particularly if you go for the good ol' 5-litre V8. The uprated 'Coyote' unit packs a healthy 444bhp and 390lb ft, which is more than enough, even when it's being asked to haul around 1668kg of pony car – 0-62mph takes 4.0sec in the 10-speed (yes, that's ten-speed) auto and just over half a second longer in the six-speed manual. It sounds the part, too, with a subdued woofle at idle and properly V8 bassy when pushing on. Yet it's still not an engine that likes to be revved to the heavens, preferring instead to do its effortless best in the low to mid-ranges.
> Click here for our review of the 2018 Ford Mustang GT
Fortunately the Mustang doesn't succumb to the American muscle car stereotype of preferring roads that don't have corners. Unlike the numerous previous iterations of this American institution, the latest car has an independent rear axle, while other hi-tech additions include adaptive dampers and torque vectoring. Yet despite these innovations the Ford still drives with an endearingly analogue feel. The steering is hefty and the Mustang responds crisply for such a big car, clinging on gamely through corners. With such a long wheelbase the Ford feels benign as you load the chassis up, yet with so much torque and a limited-slip differential getting the Ford moving around is fairly straightforward – simply get the car turned in and get on the throttle. It's still not the sharpest tool in the box, but it's accurate and controllable enough and there's enough feedback to keep you interested. Factor in styling that oozes retro appeal, that vocal V8 and the surprisingly low price and it's hard not to fall for the Mustang.