BMW 1M Coupe: Long term test
Our 1M was frequently driven with enthusiasm, and getting it sideways was often hard to resist...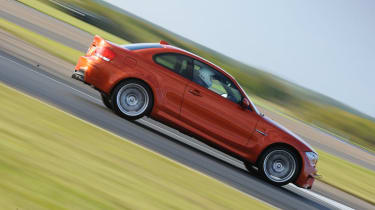 > Click here for the evo review of the BMW 1M Coupe.
The BMW 1-series M Coupe arrived at evo with big questions that needed answering. Firstly, after decades of sparkling, responsive and high-revving naturally aspirated engines, could the 1M's twin-turbocharged six-cylinder 3-litre unit match the character of its forebears?
Secondly, as the 1M was the first of this new generation of turbocharged M-cars (we took delivery before the M5 was launched), what kind of future was BMW Motorsport GmbH promising us? We had eight months to find out. As it turned out, we were seduced immediately and both questions were categorically answered after the first 20-mile drive…
If you've never seen a 1M in the flesh, and as there are only 450 in the UK you might not have, it's difficult to appreciate just how steroidal it looks. It's cartoonish – as if the 'M' stands for Marvel and not Motorsport. To a man, everyone in the office swooned when it arrived in the car park.
The basic price was £40,020, and we added £5320-worth of Bluetooth, BMW Assist (an 'online portal' including Google local search), DAB radio, Harman/Kardon surround- sound, USB audio interface, satnav, voice control, heated seats with adjustable lumbar support, metallic Valencia Orange paint, tinted glass and folding mirrors. Fortunately for those of us who like to get our arms, hands, feet, heels and toes working in harmony, you can only have the 1M with a manual gearshift.
The 1M was initially in my care, and I can genuinely say that I've never felt so thoroughly taken with a car so quickly. If you don't have the money to buy a 1M, I'd warn you never to drive one. It gets under your skin. Even a short drive will have you attempting to discover new and possibly even illegal means by which to raise the money to afford one. Sadly (or fortunately) for me, I slipped a disc within days of taking delivery and couldn't drive for a while – leaving a pack of vultures circling around the keys when I announced I would have to surrender the car. Sympathetic bunch of…
The 1M's first proper drive occurred when staff writer Stephen Dobie took 'my' 1M on a 1500-mile jaunt to the Nürburgring and back. On his return, he used the words 'effortless', 'fast', 'refined' and 'practical' to describe the smallest M-car's long-distance capabilities. Dobie also admitted to touching an indicated 170mph on the Autobahn in his boss's car, and was promptly fired. He was reinstated later when he successfully appealed, citing 'genuine road test reasons' for thrapping the life out of it. Mmm…
The 53-litre tank yielded 27mpg on the Ring trip, amounting to around 300 miles between refills. 23.9mpg was a more representative figure for our time with the car – and only once did I see the trip dip into the teens.
Speaking of lead-footed moments, of which there were many, the 1M never failed to thrill. While silky and refined, the 2979cc engine matched this with outright grunt and a soaring, tuneful wail. Every mile appeared to harvest even more power from the engine, to the point that when we returned the 1M with 18,500 on the clock it felt outrageously fast. Its sweet spot was 2000rpm in third. Bury the accelerator at this point and very few cars could keep up – not even supercars.
If there is anything disappointing in the 1M's stats, it's the weight. The chassis manages the 1495 kilos particularly well, matching agility and (throttle) adjustability with genuine feel, but we couldn't help wondering just how scintillating a proper lightweight CSL version would be.
Fifty-fifty weight distribution and the M diff allowed for hugely entertaining moments with the traction control switched off, but only if you were quick with your reactions – as evo film-maker Sam Riley found out when he half-spun the car into a kerb. Cue two knackered alloys and a mobile repair from www.revive-uk.com.
Our biggest criticisms related to the ride and brakes. The 1M suffers from abrupt damping – the vertical movement is short and seemingly over-damped – while the brakes simply could not cope with more than two laps of our Bedford track. An aftermarket solution was suggested to us, but BMW would not allow it.
Regardless of these issues, the 1M soon became by far and away the most coveted car on evo's fleet. Inevitably, the tyres began to suffer from repeated track use and a trip to Autódromo Internacional do Algarve for eCoty – where it finished third, beating even the mighty Lamborghini Aventador. We managed 11,222 miles on the original set of excellent Michelin Pilot Super Sports before replacements were needed (£1124).
The 1M had an unbreakable feel to it. We drove it incredibly hard, yet the feeling of solidity and integrity never waned. Nothing creaked, fell off, broke or smoked (apart from the tyres) and for a while we simply took it for granted that the 1M could cope with anything.
Then it broke down.
OK, it was a minor issue, but frustrating nonetheless. The fuel tank sender had failed, meaning the gauge read full, but in reality the tank was dry. BMW Assist was on the scene promptly, took the car away and returned it fixed in 24 hours.
At the end of the loan period, such was my affection for this car I asked BMW if I could buy it. Sadly for me, but unsurprisingly, the residuals were too strong and I couldn't afford the c£40,000 price quoted. As I write this, there are just 13 1Ms in the BMW Approved Used dealer network and most are keeping their value incredibly well.
To conclude – well, it's obvious really! We loved the 1M. Running it was a dream. It epitomises everything we celebrate at evo and we'll miss it greatly.
> Click here for the evo review of the BMW 1M Coupe.
Running Costs
| | |
| --- | --- |
| Date acquired | June 2011 |
| Total mileage | 16,011 |
| Price new | £45,340 |
| Trade in value | 38,000 |
| MPG this month | 23.9 |